All Hyderabad Section Computer Society Student Congress concludes  
Data is the lifeblood of all businesses: Surya Putchala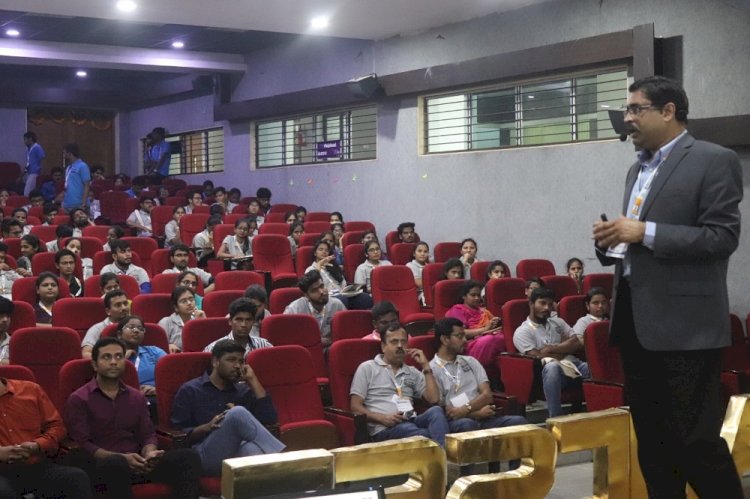 Hyderabad: The two days All Hyderabad Section Computer Society Student Congress (AHCSSC' 20) on Digital Reality, Artificial Intelligence and Robotics Project Expo on January 4 concluded here at Anurag Group of Institutions at Venkatapuram, Medipally in the city.
 
The theme of this congress was "Digital Reality, Artificial Intelligence, Robotics". And it's aim was to bring members from different student branches together to collaborate on new ideas and get awareness about the latest trends in computing technologies. 250 delegates from different branches have attended the same. 
 
Surya Putchala, CEO and Founder at ZettaMine Labs was the Chief Guest at the closing function on Saturday. He delivered a Keynote address on the machine and deep learning with some Real-time industry examples. Most industries working with large amounts of data have recognized the value of machine learning technology. It will give them a competitive advantage. It is very effectively used in Financial Services, Health Care, Governance, Retail industry, Transportation and so many other areas, he shared.
 
Data is the lifeblood of all business. Data-driven decisions increasingly make the difference between keeping up with the competition or falling further behind, Surya Putchala said.
 
A Data Scientist at Innvectra Mr. Geetananda Reddy spoke about data analytics with real-time examples and about how to secure our personal data from the Hacking. Data is a new age currency. Data, in today's business and technology world, is indispensable. Big Data analytics is indeed a revolution in the field of Information Technology. The use of Data analytics by the companies is enhancing every year. The date is knowledge, Data is money and Date is power, he told his participants. 
 
AHCSSC' 20 was organised by the Computer Science Engineering Department of Anurag Group of Institutions in collaboration with IEEE Hyderabad Chapter.
 
IEEE AHCSSC 2020 was the third of its kind, a flagship event conference from the Hyderabad Section of the IEEE Computer Society. It was organized to bring out the technical skills of the students and make them aware of the latest technologies which make them global level IT professional.
 
Two hundred fifty delegates took part in the two days meet.
 
The inaugural function which held on Friday was graced by Chief Guests Mrs. Rama Devi Lanka and Mr. Rama Iyer along with AGI director- K. S. Rao, AGI Deputy Director- Mr. Dr. Vishnu Murthy, Neelima, IEEE Computer society Chairperson- Vidya Sagar, IEEE Computer society Vice-Chair- Dr. M. A Jabbar, IEEE Hyderabad section Secretary-Mr. P. Bala Prasad and the guest of honour's Raghavendra Hunasgi
 
Mrs. Neelima, AGI secretary, Mr. K. S. Rao, AGI Director & Dr. Vishnu Murthy welcomed the gathering Mr. Rama Iyer spoke about driving the innovation through student entrepreneurship.
 
Raghavendra Hunasgi, Expert in branding, marketing, product launch and digital transformation. A Harvard Business School alumnus, social media influencer, author and marketing Leader delivered keynote address at the inauguration function on Friday. He is a Social Media Advisor to the United Nations
. He spoke about the power of going digital. While addressing the gathering he asked his audience to make Social Media A Safer Place. Social Media space is used both for
good and bad. 90% of terrorist recruitments happen on Social Media. We must combat these kinds of activities. We must make Social Media is used for good reasons and not for any other purposes. Let us all together make this great platform a safer one. 
 
Ikram Ali Shaik. AR, VR,MR Producer, 3D VFX Director and Educator gave an interesting overview of AI and Digital Reality. He touched upon the wider applications of AI and shared his two decades of experience in animation, visual effects and gaming industries. Ikram Ali is also an artist and technology enthusiast who had contributed visuals effects and 3d work for the movies Spiderman 3; I am legend, Speed racer, Eagle eye, G-force and Watchmen.
 
Mr. Rajesh Kumar Nalla, Techimax who spoke about the AI enriching Human life. This Young Entrepreneur working extensively on some futuristic technologies: Big data, IoT, Cloud, AI/ML, Chatbots, Hybrid mobile platforms, and Nextgenn Ed-tech platform, shared his wisdom and advised students on the same. 
 
Kisshhan PSV Founder & CEO at H-Bots, Robotics company shared his journey of developing the world's first smart policing robot and various aspects of the same.
 
IEEE, which stands for Institute of Electrical and Electronics Engineers is"the world's largest technical professional society -- promoting the development and application of electrotechnology and allied sciences for the benefit of humanity, the advancement of the profession, and the well-being of our members."IEEE Computer Society that it is the premier source for information, inspiration, and collaboration in computer science and engineering. Connecting members worldwide, the Computer Society empowers the people who advance technology by delivering tools for individuals at all stages of their professional careers. Our trusted resources include international conferences, peer-reviewed publications, a robust digital library, globally recognized standards, and continuous learning opportunities.
 
IEEE Hyderabad section provides an opportunity for its student members to begin networking in their area of interest and future profession. It enables students to stay with the current and fast-changing world of technology and also builds confidence in students to locate career opportunities.