AIFF unveils "Vision 2047", its strategic roadmap for making India top football nation in Asia
The All India Football Federation unveiled its strategic roadmap with 'Vision 2047' in the presence of various members of the media in New Delhi on Saturday. The long-due roadmap, Vision 2047, hopes that in the countrys centenary year of independence, India will also emerge as a new powerhouse of Asian football.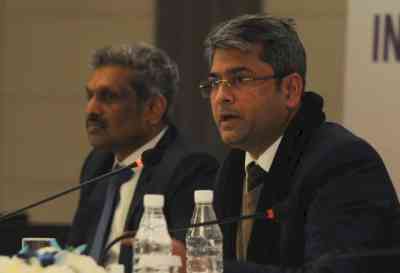 Source: IANS


New Delhi, Jan 7 (IANS) The All India Football Federation unveiled its strategic roadmap with 'Vision 2047' in the presence of various members of the media in New Delhi on Saturday. The long-due roadmap, Vision 2047, hopes that in the countrys centenary year of independence, India will also emerge as a new powerhouse of Asian football.
Developed in conjunction with all stakeholders within Indian Football, the roadmap has also sought and incorporated inputs from the Asian Football Confederation (AFC) and FIFA. The salient ambitions of the roadmap are to see India among the top four footballing nations in Asia, host one of the top leagues in Asia, and create a vibrant footballing ecosystem.
'Vision 2047' has been broken down, for diligent implementation, into six four-year strategic plans. The first of these will look to cover the period till 2026. "Vision 2047 paints a picture of where we want to position Indian Football at the outset of a hundred years of our nation's independence," AIFF President Kalyan Chaubey said at the event.
"At a time when India's role is becoming increasingly prominent on the world stage, we embark on a journey as ambitious as our nation itself. However, this is not a journey for the Federation alone, but one that will be traversed together by every entity that is connected to Indian Football.
"With a shared vision and by sharing responsibility, we can implement targeted programmes to address key areas identified in this roadmap and help build capacity for the football ecosystem," Chaubey said. "I dream of reviving the glory days of Indian Football as it was in the 1950s and 60s and becoming a powerhouse of Asian football once again. It is our right to dream and our duty to do everything it takes to fulfil that dream. Together, we can aspire to take Indian Football to peaks never scaled before."
One of the key aspects of the roadmap is to ensure increased access to competition and games for players plying their trade in the country. By 2047, the Federation wants to ensure players will be able to play at least 55 matches across different competitions every season.
"Transformation will begin at home through a reform of the organisational culture," Secretary General Dr Shaji Prabhakaran said, referring to a need for better governance of the game across the country. "A restructuring exercise will be carried out to streamline current operations and develop a team which adopts the industry's best practices and is transparent in its dealings."
"By 2036, the centenary of the Federation," Dr Prabhakaran said, "India will be among the top seven countries in Asia, and a strong contender to qualify for the World Cup on merit."
The Federation recognises that growth in modern sport requires a business outlook. The Federation will dedicate an entire division - Business and Marketing - to develop, cultivate and invite investment and partnerships in Indian Football.
In lieu of the same, the Federation will support Member Associations with capacity building and help them rise in the Football Pyramid by providing highly relevant `Support Solutions'. This support will enable them to be self-sufficient by 2027 and in turn help, the ecosystem thrives.
The Federation observed that at the grassroots, the beautiful game, currently, has low participation relative to its size and population. There is a huge gender disparity in participation, and a lack of facilities and playfields in urban areas where children can come out and play. A lack of cohesion and focus between different stakeholders has led to significant gaps in funding.
The AIFF's 2026 target is to reach 35 million children through grassroots programmes and implement village grassroots programmes across 100 villages throughout India. The flagship grassroots project will also aim to register 1 million registered players and provide football education to 25 million children through Football for Schools.
The Federation recognised that while women's football has been growing rapidly across the world, it has previously received very little attention in India. The weak ecosystem needs specific solutions to help increase participation and competency across the pyramid. Some of the proposed solutions include better adoption of women's football by clubs across different levels, incentivising the role of coaches, referees and match commissioners for women, as well as providing a minimum salary to women's players.
By 2026 - the period of the first strategic plan - the Federation will ensure the creation of a four-level league table pyramid, the top of which will be occupied by the Indian Women's League (featuring 10 teams), followed by the 2nd Division (8 teams). In addition, there will be five zonal leagues with eight teams each. In addition, a new women's youth league structure has been proposed, which will see players across different age groups play a minimum of 14 matches. The Federation will ensure that a minimum of 20 states implement the new women's youth structures by 2027.
On the men's side, the current strategic plan will ensure the creation of a three-tier national league pyramid with 40 teams. The Hero Indian Super League and Hero I-League will boast 14 teams each while the Hero I-League 2nd Division will consist of 12 teams. A state championship structure will see city and district leagues feed into the state championships. A revamped men's youth league structure will see the local state youth league and elite youth leagues will run simultaneously. Clubs and academies will participate in both with the winners of the state youth leagues qualifying for the Elite youth league.
One of the cornerstones of the roadmap is the creation of a national playing philosophy, which will be developed over time after consultation, observation and exploration. Subsequently, the `Coach Education Program' structure will be developed in line with our `Indian National Football Philosophy'. The improvement of footballing quality at all levels of the ecosystem demands better coaching and with that in mind, the roadmap targets creating 50,000 active coaches - almost 4,500 with a minimum AIFF C License - across the country.
The Federation observed that the talent development ecosystem is currently informal, with clubs and Federation bodies all largely working in silos without a systematic or uniform approach. The AIFF proposes to change this by creating a data-driven scouting structure from the Elite Youth League System for its National Teams. Clubs will drive talent identification at the grassroots unto the Elite Youth structure.
An increased focus will be put on utilising the FIFA windows across age groups to provide exposure to players in the national teams, with mega camps (two or more age groups) scheduled at least twice a year. Qualification for the FIFA U17 World Cups for Both Men and Women on merit is a key part of the agenda.
Infrastructure is key to achieving many long-term goals. The Federation has observed that there has, over the past decades, been a reduction in playgrounds in urban areas. Many top professional clubs do not yet own football infrastructure. The Federation plans to conduct a pan-India infrastructure census by 2025.
Subsequently, it will put in place policy interventions that will incentivise government authorities, football clubs, corporates, and private investors to invest in infrastructure. A grading and licensing criteria will be in place by 2024, and a mega football park will be formalised by 2026. The AIFF National Centre of Excellence will be fully functional by 2026.
A key focus of the Strategic Roadmap, Dr Prabhakaran said, is on "increasing the commercial viability by creating economic value for all our stakeholders, especially players." The Federation will create effective feedback mechanisms that will ensure it is among the best government sports organisations in the country. The roadmap also lists creation of new assets in football, futsal and beach soccer to engage sponsors and diversify target audiences to broaden the reach of Indian Football.