AICC secretary and former minister Sudhir Sharma demands CBI inquiry in HP health scam
An officer of Director rank has been arrested in Himachal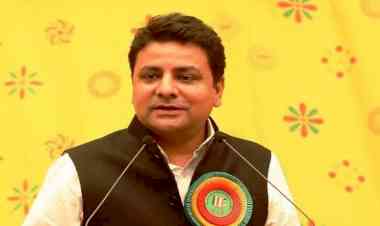 AICC Secretary and former Minister Sudhir Sharma.
Dharamshala: In a press release issued today, AICC Secretary and former Minister Sudhir Sharma said about the so-called scam of the Health Department  in which an officer of Director rank was arrested in Himachal, that the police should have questioned the offender by seeking police custody on the other hand  the police has made a big mistake by sending him to judicial custody. The Ex-Urban Development Minister of Himachal Sudhir Sharma said, "Here the culprit was first called for questioning and after being arrested, he was hospitalized."
Ex-minister demanded that either this case should be handed over to the CBI or the  High Court should take cognizance of all these incidents and ensure a fair investigation.
Sharma said that under the law, a person is sent to judicial custody only if the police does not have to recover anything from him or not to make any inquiry.  But by sending him to judicial custody on the very first day, the ex- director was given complete freedom to do whatever he needed . He said, "He can tamper with the document and erase the evidence."
Sharma said that in this case the police, which is under the government directive in act to protect him, instead of getting police custody, he has been deliberately taken into judicial custody.
In a press release issued here today, AICC Secretary Sudhir Sharma reacting over the said scam of the Health Department that if any person is arrested by the police under any such serious offense, the police gets the  remand for  the maximum period which can be up to 15 days, it is necessary by law so that the police can interrogate him and any criminal evidence which is necessary to get to the bottom of this case, and the criminal can't tamper the documents in this period of time.
He added that through this method of investigation, it seems as if an attempt is being made to suppress the entire investigation under pressure from a highly high-ranking people.
Earlier on Thursday, the vigilance and anti-corruption bureau of Himachal Pradesh has arrested Director of Health Services Himachal in Shimla following allegations of bribery against him.