Ahead of Punjab bandh call, 14 trains (up and down) cancelled by divisional railway
Police too have made all the necessary arrangements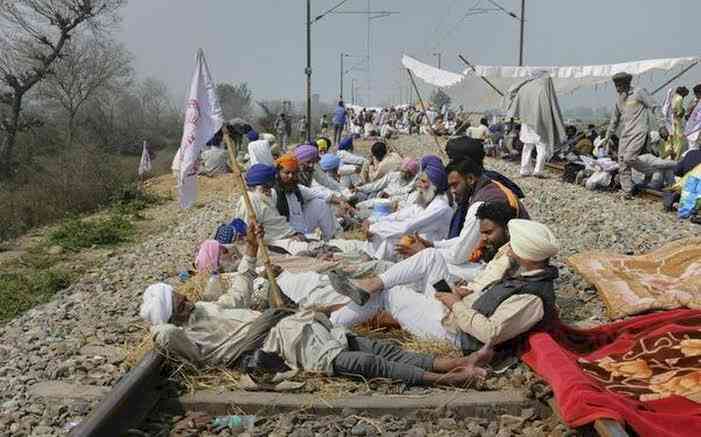 Farmers protest (file photo).
Ferozepur: Ahead of Punjab Bandh call given by various farmer's union on September 25, the Ferozepur railway division has cancelled 14 trains (up and down) from tomorrow onwards. The decision has been taken during a high-level meeting held today at the Divisional Railway Manager (DRM) office.  Divulging more details, Rajesh Aggarwal DRM said that keeping in mind the security and the safety of the passengers, this decision has been taken.

As per information, Golden Temple Mail Covid-19 Special from Amritsar to Mumbai Central (02903 and 02904), Amritsar - Kolkata Superfast (02357 and 02358), Karambhumi Kovid-19 Special from Amritsar to  New Jalpaiguri (02407 and 02408), Paschim Deluxe Express  from Amritsar to Mumbai (02925 and 02926), Sachkhand Kovid-19 Special from Amritsar to Nanded (02715 and 02716), Jan Shatabadi Express from Amritsar to Haridwar (02053 and 02054), Shaheed Express from Amritsar to Jaynagar (04673 and 04674), Saryu Yamuna Express from Amritsar to Jaynagar (04649 and 04650), Amritsar-Dibrugarh Express (05933 and 05934), Amtisar-Jammu Tawi Express (02425 and 02426), Ganga-Satluj Express from Ferozepur to Dhanbad (03307 and 03308), Amritsar-New Jalpaiguri Express (04653 and 04654), Ferozepur-Patna Covid 19 Special (04651 and 04652) and Amritsar to Bandra Terminal Covid-19 Special (09025 and 09026) have been cancelled.

Notably, Punjab Pradesh Beopar Mandal, Malwa Zone Private Bus Operators Bathinda Car Dealer Union, Budhladha Bar Association, Punjab Nambardar Union and Punjab Swarankar Union have already extended their support to the farmers for the Punajb Bandh call on September 25.

Meanwhile, SSP Bhupinder Singh said that police have made all the necessary arrangements and nobody will be allowed to take law into their hands. "police jawans will be deputed to avert any kind of untowared incident", said SSP.