Ahead of paddy season irrigation works worth Rs 1.85 crore completed under MGNREGA
Rural development and panchayats department builds 55 new canals, cleans drains besides providing job opportunities to rural folk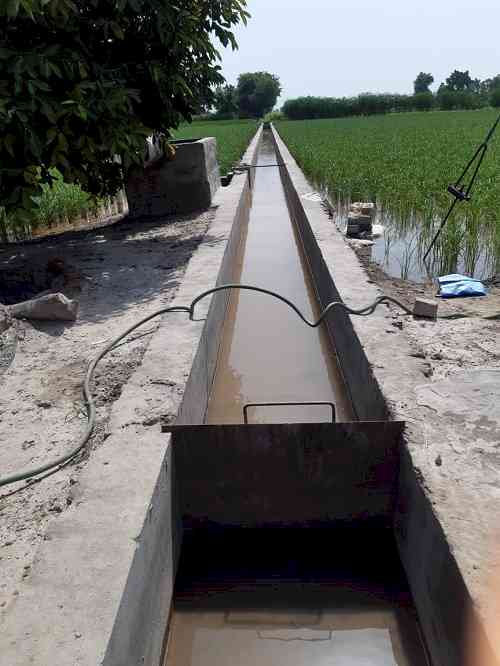 Ferozepur: To provide canal water at the tail ends besides decreasing farmer's dependence on ground water, the district administration has accomplished  irrigation works worth Rs.1.85 Crore in the district ahead of paddy season.

Divulging details, ADC (D) Ravinderpal Singh Sandhu said that to fulfil the farmers' need for irrigation water, the rural development and Panchayats department had carried out as many as 367 irrigation works worth Rs. 1.25 Crore in all the development blocks. 

The ADC further added that apart from these 367 works, the department had also constructed 55 irrigation canals (khals) to utilise water from these into the fields with an outlay of Rs. 60 Lakh. 

The government has spent a total of Rs. 1.85 Crore over irrigation projects, said the ADC adding that out of total 55 the new irrigation canals, 23 were in Guruharsahai, 8 in Ferozepur, 10 in Ghallkhurd, 11 in Mamdot and 3 in Makhu development block.

Meanwhile, the District Development  and Panchayat Officer Harjinder Singh said that all these works have been completed under Mahatma Gandhi National Rojgar Guarantee Act (MAGNREGA), which created ample job opportunities for the rural folk. The DDPO said that Chief Minister Captain Amarinder Singh led state government was committed towards the development of rural areas by providing cities like infrastructure in villages. He said that these irrigation works would be instrumental to help the farmers by catering their water needs for irrigation purposes.