Administration rolls out 'we are vaccinated stickers' campaign for aggressive vaccination
Ashu and DC paste stickers outside their homes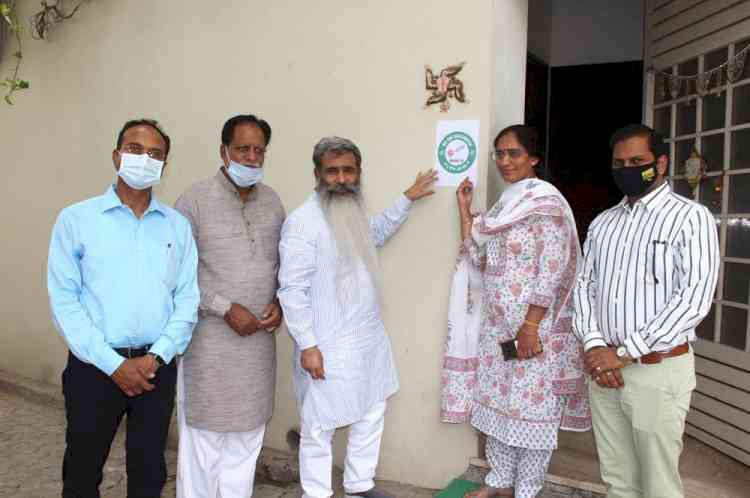 Ludhiana: In a bid to further strengthen and accelerate the pace of the vaccination, the Ludhiana administration led by Food, Civil and Supplies Minister Bharat Bhushan Ashu and Deputy Commissioner Varinder Kumar Sharma on Saturday, has rolled out 'We are vaccinated" stickers campaign to motivate people to get the jab.
A brainchild of SDM Samrala Geetika Singh, Food, Civil and Supplies Minister Bharat Bhushan Ashu and Deputy Commissioner Varinder Kumar Sharma kick-started the drive-by pasting the stickers outside their respective homes as all members of their families in the home have received the vaccine.
Divulging the details in this regard, The Cabinet Minister accompanied by his wife and Municipal Councillor Mamta Ashu said that this is another initiative of the administration to promote the vaccination through stickers, a kind of swag to acknowledge the support of vaccinated people in this war against the contagion which is spreading its tentacles deeper into the country.
Hailing the campaign a unique to bolster the vaccination, Ashu said that it would help to get more people vaccinated thus moving closer to normalcy once again by breaking the transmission chain of the virus.
Deputy Commissioner along with his wife Parveen Sharma said that the campaign would help to overcome vaccine resistance and would lead society to normal life as soon as possible. 
He said that vaccination is the only way to protect the lives of people from this deadly disease and stop the spread of the pathogen. 
Giving the facts, he said that the countries where the people have wholeheartedly supported the vaccination program and half of their population have received the shot of vaccine are witnesses very few cases of Covid so that people of Ludhiana need to come forward and get the vaccine into the arms.
He once again appealed to the people to join hands with the administration to contain the pandemic as soon as possible by receiving the vaccine in large numbers in nearby government/private health institutions or camps and paste stickers outside their homes. 
Deputy Commissioner said that these stickers are available in all the vaccination camps and people can also collect them from the office of the Additional Deputy Commissioner (Development).