Adhering to covid-19 safety precaution a low key I-Day function to be organized this year: DC
Hoisting flag by chief guest and taking salute from Punjab police contingent to be main features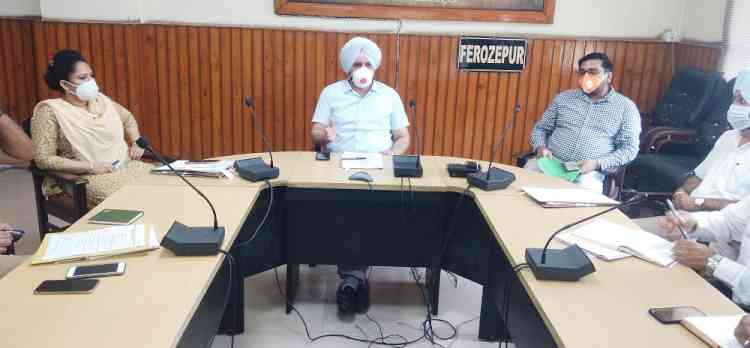 Ferozepur: The district level 74th Independence Day function this year would be a low key affair in wake of the government guidelines and strict adherence to the safety precautions would be ensured at any cost, said Deputy Commissioner Ferozepur Mr. Gurpal Singh Chahal while chairing a review meeting to oversee the ongoing preparations for the event.

He said that this time gathering would be limited and the function would be kept simple and precise adding he said that the Ministry of Home Affairs had already issued detailed instructions in this regard, which would be strictly followed amid a spike in COVID cases to contain the further spread of pandemic.

He said that Social Justice Minister Punjab Mr. Sadhu Singh Dharmsot would hoist the flag on this auspicious occasion.
Referring to the MHA and State Government's guidelines regarding I-Day function amid COVID, Mr. Chahal said that there would be no massive gathering during the event as it used to be in previous years and only one contingent of Punjab Police would give salute. He also clarified that there would be no other activities like PT shows, cultural events, parades etc in order to maintain the said guidelines.

The DC said that health & safety protocols including social distancing, wearing masks, hand sanitizing, disinfecting the premises would be accorded top priorities. He directed the police officials to make sure that their security personnel especially at frisking tasks must follow all the safety protocol to avoid further spread of the virus.
 

Prominent amongst those present in the meeting included Additional Deputy Commissioner (General) Rajdeep Kaur, SDM Amit Gupta, DSP Karansher Singh, Assistant Commissioner Ravinder Arora, DDPO Harjinder Singh, and Secretary Red Cross Ashoke Bahal.