ADHERENCE TO GOVERNMENT INSTRUCTIONS IMPORTANT AND EFFECTIVE WEAPONS AGAINST CORONA: MP TEWARI
HOLDS MEETING WITH NOMINEES OF AREA THROUGH VIDEO CONFERENCING TO TAKE REVIEW OF SITUATION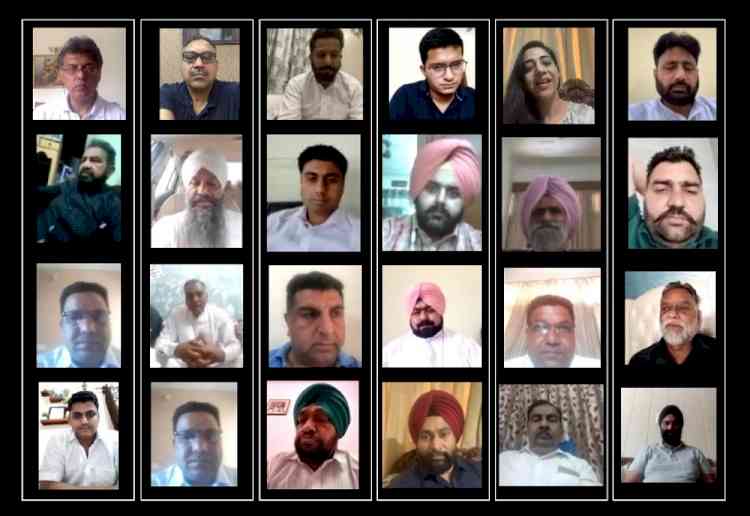 Rupnagar: Shri Anandpur Sahib MP Manish Tewari said that, the most important and effective weapon in the fight against Corona infection is to follow the government instructions from time to time. He held a meeting with the nominees of the area through video conferencing to take a review of the situation.
During the meeting, Tewari said that to defeat Corona and avoid its side effects, we need to follow government instructions and stay in our homes.
He can understand that there are many challenges, but we have to be restrained and keep in mind the safety of our own self and others. Regarding the complaint related to the lack of PPE kits in government hospitals, he said that he will put this demand in front of the central government. In addition, Tewari stressed the need to increase the rate of corona testing in the country, adding that under the current system it would take several years to identify corona infections. To get the test results quickly, the government should also bring technology from abroad, because at present it takes two days to report the sample and then the infected person engulfs many.
Similarly, Mohan Singh, chairman of the market committee, Garhshankar, said that the central government cut Rs. 9.82 per quintal in the purchase of wheat, Tewari said that he would bring the matter to the attention of the center. He stressed that the farmers are facing severe difficulties in filling the country's granary in the midst of the Corona crisis despite the earlier natural disasters and in such a situation, it is wrong for the government to cut back money to increase its relief. The problem of gunny in the mandis was also a big issue, for which Tewari assured to raise the issue once again with forth the government.
While Pawan Dewan, Chairman of the Punjab Large Industrial Development Board, praised the country's Corona Warriors, working hard day and night in the fight against Corona, whose efforts were praised by the Indian Air Force by flowery salute. He said that in this battle, the medical staff fighting on the frontline forgetting their home and family and treating the victims, deserves respect.
Among others Pawan Dewan Chairman Punjab Large Industrial Development Board, Raja Mohali, Mohan Singh Chairman Market Garhshakar, Harvail Singh Saini, Thakedar Rajinder Singh, Dr Harpreet Kainth, Vipan Taneja, Rajinder Singh Shindi Block president Congress, Vijay Rana, Ashok Saini, Vijay Kaushal, Amarjit Jolly, Rajesh Kumar, Rakesh Kalia, Krishan Gorsi, Wasim Mir, Shamsher Bhangu President MC Sri Chamkaur Sahib, Rohit Sabharwal, Amrik Singh Somal MC Mohali, Jaspreet Kaur MC Mohali and Aman Slatch were also presents during the video conference.