Actress and MP Nusrat Jahan, unveils her own youth wear brand Youve in Hyderabad
She was the show stopper at the launch fashion show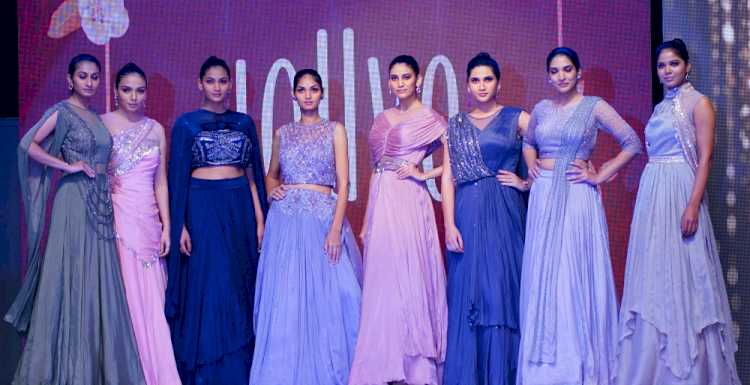 Rangoli, a brand owned by actress and MP Nusrat Jahan unveiled "YOUVE"a youth wear brand in Hyderabad. Models seen showcasing its collection.
Hyderabad: "YOUVE" by Rangoli, a youth wear brand arrives in Hyderabad. The brand curated by Actress and Member of Parliament Nusrat Jahan and her flagship brand Rangoli was formally unveiled and showcased through a Fashion Show by the models on Saturday night at Hotel Taj Deccan.
 
Union Minister for Home G. Kishan Reddy, British Dy High Commissioner in Hyderabad Andre Fleming and his wife graced the occasion.
 
The well-known personality in India, Nusrat Jahan not only the brain behind curating the brand and its designs, but she has also been the face of the brand. She was the showstopper and stole the show graced by some of the city's most elite 200 plus crowd and fashion enthusiasts.
 
YOUVE is the newest premium ethnic couture line from the house of Rangoli. YOUVE is ready to redefine the youthful ethnic fashion segment, announced Nusrat Jahan while interacting with the media at the show.
 
YOUVE brings a fresh charm to Indias Ethnic Couture. India is a land of all year festivities and celebrations and nothing can match the appeal of the Indian ethnic apparel for such occasions.
 
This is especially true for the youth of today what may savour the convenience of western wear for their day to day lives but when it comes to traditional festivities, they seek out ethnic styles that would make them started. That is where YOUVE comes in explains Nusrat Jahan.
 
YOUVE is the new premium ethnic fashion line from the house of Rangoli.
 
Rangoli is a well-known name in the Pan Indian ethnic fashion circles. The brand has been created to cater to the young generation of today, who prefer traditional styles for their festive occasions or rituals, but, want it to feel contemporary as well.
 
After Kolkata, the brand is making inroads to Hyderabad. Then it will follow its suit to major Indian cities.
 
16 City models walked the ramp in 7 sequences showcasing the collection.
 
Some of the most elite Hyderabadis witnessed and graced the launch
 
Curated by Srikanth Gatla, Hyderabad's noted Fashion Choreographer, Show Director with the support from Sachin Dakjoji, Makeup & Hair Stylist.!
 
Speaking on the occasion Nikhil Jain, MD of the Rangoli said, response from Hyderabad for the collection is very good. This was the reason why they chose Hyderabad for the launch after their home town Kolkata.
 
They are planning to open stores in Vijayawda, Bangalore and Chennai very soon.