Actor Gurpreet Ghuggi and Singer Ninja joins hands with Shan-E-Khalsa and Fateh TV to bring relief for Covid Patients
Some medical helplines were also launched for the help of people in rural areas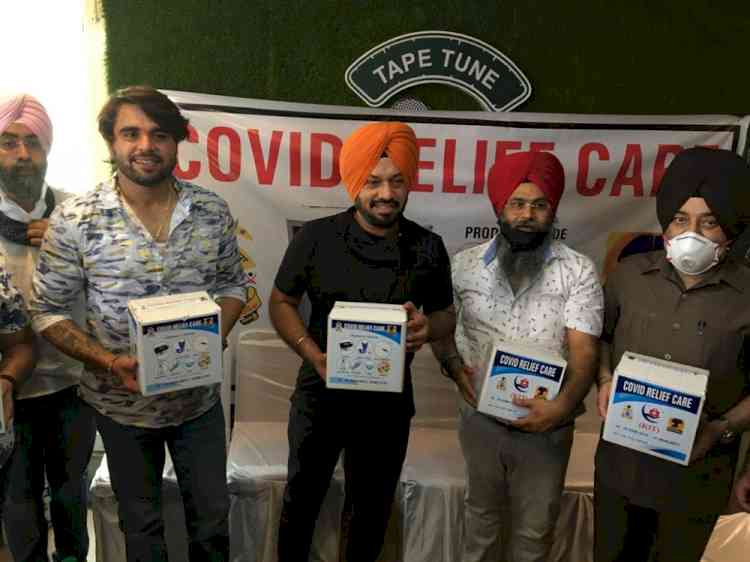 Mohali:
India is rapidly recovering from the pandemic situation but at this time of crisis, medical help and assistance is the most required thing for all. And, hence seeing this necessity and requirements of people there are many organizations and NGOs have come up to help others.
Since the beginning of the COVID, there is a lack of some necessary medical facilities and aid in the remote Punjab areas. Analyzing all situations organization Shan-E-Khalsa and Fateh TV has made a Corona Kit which has Oxymeters, Steamers, Digital Thermometers, Hand Sanitizers, Hand Gloves, Face Masks, and Medicines and is to be distributed in those areas.
Punjabi industry's renowned actors Gurpreet Ghuggi and Singer Ninja has joined hands with their team for this social cause. The border areas of Punjab and small towns doesn't get sufficient supplies of such small things which we normally get at chemist shops in our cities, said Dr. Rupinder Singh (Director Shan-E-Khalsa) and hence I am personally taking part in making arrangements for all, he added. He said that we will make sure that these Corona kits reach every Gurdwara Sahib of these small towns or villages of Punjab, and from where it will be distributed to the needy patients for no cost at all.
Rajwant Singh Vohra (Director, Fateh TV) said that he is very happy with his team's efforts who suggested and marked some villages where they could avail these facilities. He said that their team is continuously monitoring and making sure that after the launch of this kit today, they rapidly could make it available at all villages.This noble and social cause has no boundaries and more people should join in, said Gurpreet Ghuggi. He said why only him, but all film fraternity should come up in giving aid to such villages.
Ninja seemed to be very calm and composed during the launch and he said that his family has always been into social activities, behind the scene. And, he feel immense proud to be a part of such activity. He said he will give his worth by putting his efforts wherever required both monetarily and voluntarily.
At this occasion, Shan-E-Khalsa team S. Manjot (Project Coordinator), Robina Kaur (Production Manager), S. Jaswinder Singh Gulati and S. Amandeep Singh Gulati were present
Some medical helplines were also launched for the help of people in rural areas.