Abhaar- The Principals Meet at GNA University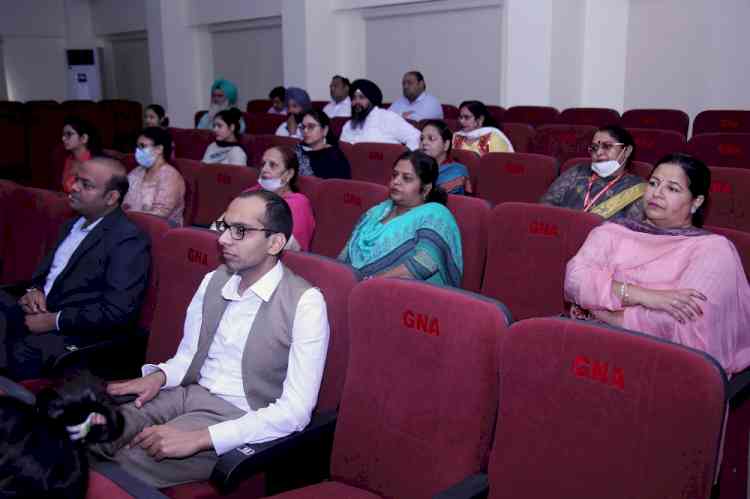 Jalandhar, October 27, 2021: GNA University in its glorious accomplishment of 75 years of the GNA Group organised Abhaar- The Principals Meet in association with the Hoshiarpur Sahodhya. The main objective behind the event was to extend gratitude to all the academicians across the State. 
The occasion was graced by 80+ Principals of the Hoshiarpur district under the able guidance of Ms. Kiranpreet Kaur Dhami, The City Coordinator of CBSE Hoshiarpur. Mr. Gurdeep Singh Sihra, the Preo-Chancellor GNA University was the Chief Guest and he expressed, "GNA University holds immense gratitude to all the Principals for being in active communion with our institution."
The entire event was well handled by Dr. Disha Khanna, Dean Faculty of Liberal Arts, who in the events introduction gave an overview of the entire occasion and introduced the worthy speakers. Mr. Gurmeet Singh, the Coordinator of Abhaar, GNA University and Ms. Onkarjit Kaur along with Mr. Aman Kashyap and Mr. Harpreet Singh, coordinators of Hoshiarpur district extended their gratitude to all the gathered Principals.
Mr. Suneel Keswani, the Senior Co-orporate Trainer an erudite scholar ignited the audience with his charismatic thrill of life experiences. He said, "Coming to GNA University is always a homecoming and I extend my thanks for making me inclusive of this special event."
Ms. Kirtanpreet Kaur Dhami, the City Coordinator CBSE Hoshiarpur in her address extended her warmth to the GNA Group for always being helpful and she even said, "I am feeling delighted that we as the Principals of Hoshiarpur district got this valuable chance of being a part of this Abhaar a common platform for all the CBSE Principals."
Mr. AP Singh Chawla, Principal Rayat Bahra International School, Hoshiarpur and Ms. Manpreet Bhogal, Principal Dashmesh Public School, Mukerian extended their thanks to the GNA Group for inviting them over the event.
Er. Anit Arora, Principal Cambridge International School, Dasuya extended his vote of thanks to the entire gathering and to GNA University for giving them this huge platform of meeting and  greeting.
Dr. RK Mahajhan, Registrar GNA University also acknowledged the presence of all the worthy principals.
Dr. VK Rattan, the Vice- Chancellor GNA University passed on his gratitude on behalf of the entire GNA Group to the CBSE coordinators of Hoshiarpur for being a relentless support always.