AAP leaders from Delhi land their support to Ramchandra Yadav
Sanjay Singh, MP, Rajya Sabha, holding a broom in his hand said that we know how to clean corruption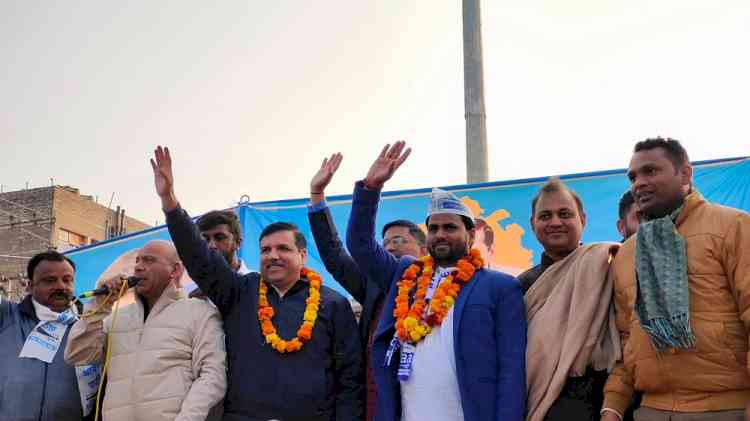 Chandigarh, December 18, 2021: Many important leaders of AAP addressed a public meeting today in support of Ramchandra Yadav, the Aam Aadmi Party's candidate from Ward 15 (Dhanas-Sarangpur area) in the Municipal Corporation elections.
 
Sanjay Singh, MP, Rajya Sabha, holding a broom in his hand said: "We know how to clean corruption. Everyone in Delhi knows that the Aam Aadmi Party performs what it says. The party does not make false promises. 20 thousand liters of water will be given free to each family every month. Kejriwal's party does not lie. Classrooms will be built like Delhi schools. Mohalla Clinics will be built. The park will be cleaned. A place will be provided for Chhath Pooja. Electricity, water, healthcare, and education will be made free. Aam Aadmi Party will surely win the polls. We will work for women empowerment. All women above 18 years will get 1000 rupees per month."
 
Somnath Bharti, MLA, Delhi AAP, said: "Arvind Kejriwal has tried to bring new politics. We are all together to support the people of Purvanchal. Three MLAs of Delhi have come so that the victory of Aam Aadmi Party is assured here too."
 
Harmohan Dhawan, Pradeep Chhabra, Rohit Perolia, MLA, Vinayak, Malvinder Singh Kang, Jagdeep, Siya Ram, Prem Garg, Akhilesh Tripathi, Chandigarh AAP vice-president Bikram Dhawan, state secretary Vijaypal Yadav and election agent Raghuwinder Yadav were also present in the meeting. Ramchandra Yadav thanked all the leaders. He addressed the public meeting and asked for vote and support.