A young entrepreneur from tricity carves niche in pharma sector
Meet Nikhil Aggarwal, the young and dynamic CEO of Ernst Pharmacia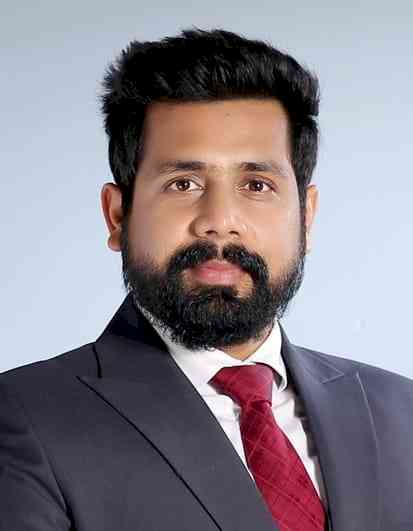 Nikhil Aggarwal.


Chandigarh, May 3, 2023: A young and dynamic entrepreneur  Nikhil Aggarwal has carved a niche for himself in not just the region's but even India's pharma industry, which is likely to grow to $ 65 billion by 2024 and is further expected to reach $ 130 billion by 2030. Through Ernst Pharmacia, Nikhil has effectively penetrated into the domestic and even the global market.

Sharing his vision as a key player in the pharma industry, Nikhil says that his focus has always been on high efficacy products and the commitment to ensure that patients get superior quality and affordable range of drugs with ease.

Headquartered in Panchkula near Chandigarh, Ernst Pharmacia operates with a dedicated network of sister concerns all across the country, which is responsible for the delivery of over 3000 brands. "We are guided by the vision of 'Make In India' and 'Local for Global' of Prime Minister Narendra Modi," said Nikhil.

With demonstrated capacities in the healthcare field, Ernst Pharmacia caters to the needs of patients from a spectrum of specialization such as gynecology, dermatology, orthopaedic, neurology, ophthalmic, cardiac-diabetic, and PPIs. It has a broad scope of pharma products portfolio comprising tablets, capsules, soft gels, injectables, syrups, ointments, eyes, ear, and nasal drops.

"Our products are made at one of the best state-of-the-art facilities, which are WHO and GMP-certified units. Since our beginning, we have been serving customers all over India in every state. This development has simply been conceivable because of our exacting command over the nature of our items and our earnest endeavours to follow all rules and techniques. Further our goal is to ensure that patients shall have the right to use high-quality products and affordable medicines," he said.

For Nikhil, quality is always the first priority as is a very important factor. This stems from the fact that healthcare is incomplete without any active focus on quality. Moreover, the pandemic has brought a visible shift in the way we think. Plus, the government is laying more emphasis on the healthcare sector. 

"We understand our responsibility and want to serve as a medium of positive change in society. There are no hidden costs as well as you make a good head start through our customized support and help," he adds.

With a wide range of 1200 plus products in 12 dosage forms, Ernst Pharmacia is bracketed with reputed formulators, hospitals and distributors of premium pharmaceutical medicines. In a short span of time Ernst Pharmacia is honoured with various awards in Punjab, Haryana, UT Chandigarh and the Award DAE (Doctors Association of Eindhoven, Netherlands) for its contributions pharmaceutical sector including the anti-biotic segment.