9th Edition of Mach Auto Expo 2020 inaugurated
Latest technology exhibited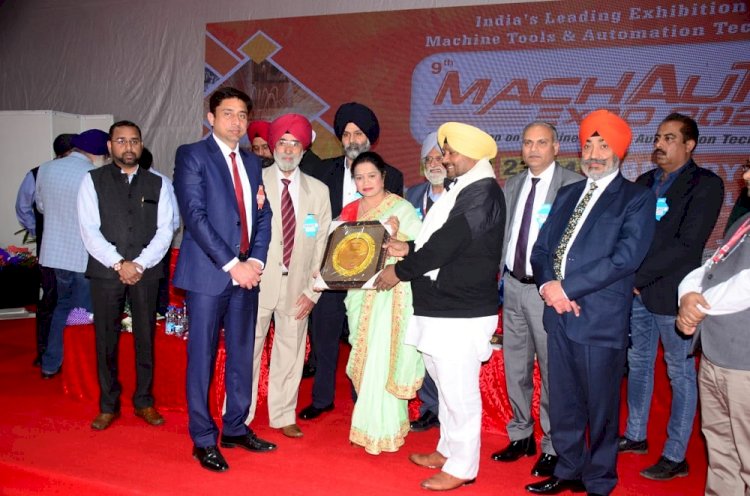 Ludhiana: Ninth edition of Mach Auto 2020, India's leading exhibition on Machine tools and Automation Technology was inaugurated on February 21 (Friday) at GLADA Grounds, Chandigarh Road, Ludhiana. During the inauguration ceremony, top Industrial leaders, Bureaucrats, Politicians, Exhibitors were present. The first day evoked huge response from the visitors. As many as 575 exhibitors from India and 20 other countries are participating in the exhibition and they are expecting more than 50,000 visitors from PAN India  in the Expo to be held from February 21 to 24. 850 Running Machines will be on display in the exhibition.
Expo was supported by NSIC, MSME,  Association of Ludhiana Machine Tool Industry, Auto Parts Manufactures Association (India) and other associations.
MLA Kuldeep Singh Vaid, Political Secretary to Chief Minister Punjab Captain Amarinder Singh Captain Sandeep Sandhu, Mr. Anand Sherkhane Additional Commissioner MSME and other prominent personalties graced the occasion.
Mr. GS Dhillon, Managing Director Udaan Media and Communications Private Limited sai that the motive of the expo is to provide the perfect platform for the MSME units to showcase latest technologies and innovations under one roof. Mach Auto focuses on machine tool, auto parts, engineering machinery, hand tools, and CNC machines.
MLA Kuldeep Singh Vaid said that he was surprised to see the latest technology which will definitely benefit the industrialists in the growth and bringing Industrial revolution.
Captain Sandeep Sandhu said that Expo is a platform where the industrialists will able to witness, learn and adopt the latest techniques, machinery available in market. 
Anand Sherkhane Additional Commissioner MSME said that the Government and department will support the Industrialists in up gradation, adopting new technology and bringing revolution. Mach Auto Expo 2020 is the best platform for exhibiting latest Technology.
During the inauguration ceremony, Abishek Munjal Director Hero Cycles, Manjit Singh Khalsa, Lalit Kumar from Rail Coach factory, Gurpargat Singh Kahlon, DS Chawla, Gurmeet Singh Kular, Charanjit Singh Vishkarma, Jagtar Singh from Machine Tool Association, Jaswinder Singh Thukral, SC Ralhan besides several others were present.