81 samples found negative, one patent recovered on Sunday: DC Kangra   
He urges people to stay safe at home so that threat of coronavirus could be checked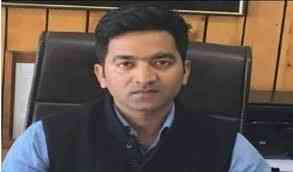 Rakesh Prajapati,Deputy Commissioner, kangra.
Dharamshala: As many as 81 samples collected in Kangra district were found negative on Sunday. Sample of the person from Jamanabad, who was found positive a couple of days back, was also tested negative today and has been discharged from Covid-19 Care Centre, Baijnath. Now, there are only 14 active cases in the district.
Deputy Commissioner Rakesh Prajapati told here at Dharamshala that out of 81 samples collected today, 62 were tested at CSIR Lab and remaining at Tanda Medical College.  He told that arrangements for keeping 5,000 persons under institutional quarantine had been made at different places. People coming from other states will be placed in institutional quarantine, senior citizens, children and pregnant women among them  will be kept under home quarantine.
He urged people to stay safe at home so that the threat of Corona Virus could be checked. He appealed them to intimate the authorities if they learn about any person coming to their areas from outside. People suffering from cough, fever, sore throat etc. should get themselves checked from nearby flu centre set up in the hospitals.
As many as 20 Covid-19 sample collection centers have been set up and all symptomatic patients were being tested immediately. To facilitate public helpline number are being issued from time to time.