73rd Junior Punjab Basketball Championship begins
22 teams are participating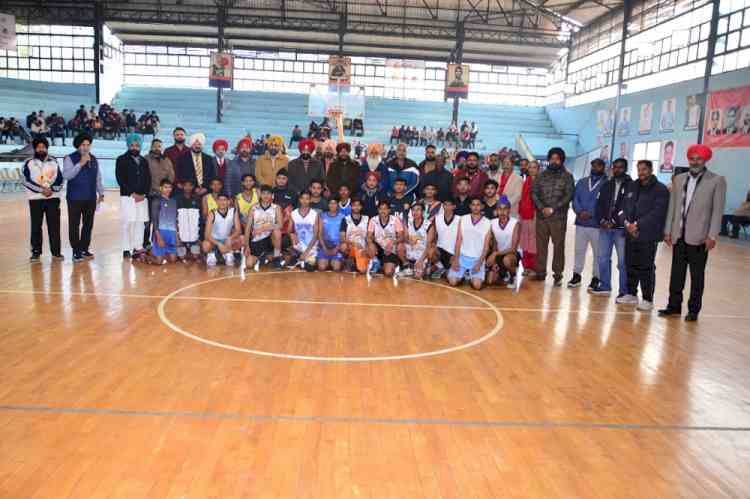 Ludhiana, December 31, 2022:  The 73rd Junior Punjab Basketball Championship started at the Basketball Court, Guru Nanak Stadium, Ludhiana today. This championship will be played till January 2, 2023.  It was inaugurated by Ludhiana Police Commissioner Mandeep Singh Sidhu. He assured the organizers of all possible support for the success of the championship.
Punjab Basketball Association General Secretary Teja Singh Dhaliwal said that after playing the qualifying round 20 teams from 5 zones and 2 teams from Ludhiana Academy are participating in the championship.  Ludhiana Basketball Academy is the current champion in the boys and girls' category.  Some international players are also participating in the championship.  On the last day, Rajdeep Singh Gill former DGP and president of Punjab Basketball Association will distribute the prizes.
Giving the details of the matches held on the first day today, he said that in the boys' category, district Ludhiana beat Mansa with a margin of 46-18 points, Ludhiana Academy team beat Khanna with 55-16 points, Sri Muktsar Sahib beat Kapurthala with 88-61 points. Moga won by defeating the Gurdaspur team with a difference of 37-31 points. In the girls' category, District Ludhiana team defeated Mansa by 28-7 points and Sri Amritsar Sahib defeated Gurdaspur by 37-31 points.
Today on this occasion Punjab Basketball Association Senior Vice President Yurinder Singh Hayer, Vice President Mukhwinder Singh Bhullar, Gurjit Singh Romana, JP Singh, Prabhdeep Singh Nathowal DPRO, Vinod  Chopra, Tarlochan Singh Lalton Kalan, Gurinderjit Singh, Amarjit Singh, Professor Prabhjot Kaur, Dr Mandeep Kaur, Senior Coach Rajinder Singh, Coach Saloni, Coach Narinderpal Sharma, Ravinder Singh and others were present.