70th senior national basketball championship for men and women entered day 2
In a women division, Madhya Pradesh registered their second win as they beat Tamil Nadu 68-60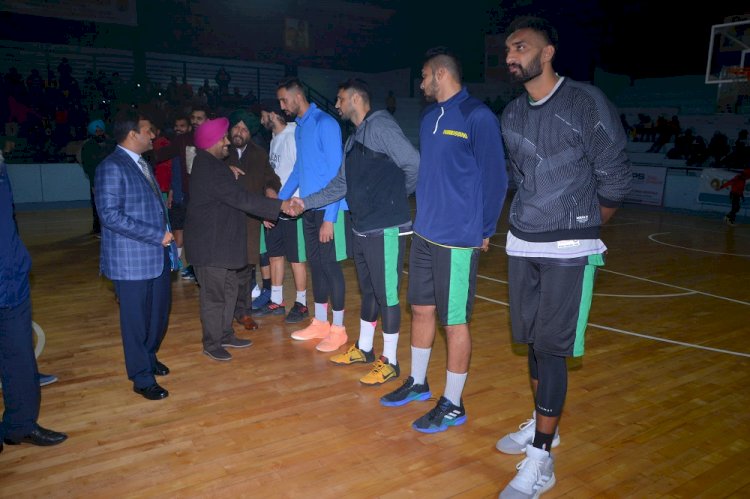 MLA Kuldip Singh Vaid and Commissioner of Police and Chairman Organising Committee came to see the evening match Punjab vs Delhi.
Ludhiana: The 70th Senior National Basketball Championship for Men and Women entered Day 2 today at the Gurunanak Indoor   Stadium, in Ludhiana
The Championship is being organized by the Punjab Basketball Association under the aegis of the Basketball Federation of India.
Indian Railway women and Tamil Nadu Men were stayed unbeaten as Indian Railway had their second straight victory in group as they beat Telengana 100-55 similarly in another woman match  Tamil Nadu men  after beating Indian Railways 87-66 in a late 1st-day match today proved too good for Kerala as they beat them  with the score 89-39, Punjab men also started their campaign as they beat Karnataka  106-66 while women today defeated Karnataka 68 58.
In a women division, Madhya Pradesh registered their second win as they beat Tamil Nadu 68-60 after their thrilling victory on the first day against Punjab as they scrape past with the score 85-81.
In other matches of the day in Men Indian Railways beat Rajasthan 91-52 and in Lower pool Matches Chaatiisgarh beat Jharkhand 81-56, Chandigarh beat Goa 70-49, Uttar Pradesh beat Puducherry 70-36, Andhra Pradesh beat  Manipur 81-57, Maharashtra beat West Bengal 62-24.
In women Chandigarh beat Bihar 63-56, Meghalaya beat  Uttarkhandb54-35, Rajasthan beat Gujarath 46-9, Andhra Pradesh  beat Odhisa 34-31, Jharkhand beat Goa 42-20.
Detailed Scores 2nd Day
Men
Utharkhnad-77(Vishesh Briguvanshi 30,Arjun Singh15,Murali Krishna11)  bt Delhi-62 (Rachit19,Sunil14) (18-14,16-19,23-8,20-21)
Punjab-106(Arshpreet Singh32,Amjot Singh19) bt Karnataka-66(Jitendra12,Harish
M12, (23-22,26-11,29-20,28-13)
Tamil Nadu-87*(Muinbek19,P jeevanathan14,Prasanna Venkitesh10) bt Indian
railways-66(Rajan25,Lovneet Singh16) (21-19,21-18,19-17,26-12)
Indian Railways-91(Deepak 18,Gagandeep Singh11) bt Rajasthan-52(Sharad Dhadich 27)(21-13,29-15,18-12,23-12)
Tamil Nadu-68(Jeevanathan16,Muinbek16,Gieeb Benny13) bt Kerala-39(Basil Philip11) (20-13,15-14,27-10,26-3)
Women
Maharastra-73(*Anshika25,,Neha Shahy11) bt Chattisgarh-54(Sangeetha Kaur18,Nisha Netam10) (18-16,19-9.18-13,18-16)
Indian Railways -100(Shireen Limayae22,Sriti Menon16) bt Telengana-55(Kiran Prajapathi 21,Golabsha Ali13) (21-11,17-20,36-17,26-11)
Madhya Pradesh-68(Nima Doma25,Namaria18,Anjali16) bt Tamil Nadu-62(V Srividhya12, Ambaragi12, Nishanthi10,Dharshini10) (22-20,14-11,12-16,20-15)
Punjab 65 (Amol Preet Kaur21,Harismran Kaur17) bt Karnataka-58 (Bhoomika17, Suprita13, Lopamudra12) (20-20,18-12,13-17,14-9)
Dehi-83(Bharati32,Sushantika14,Tavleen13) bt Telengana-72(Divya P31, Gulbhsha15, Anjusree11) (19-8,23-20,22-22,19-22)
Madhya Pradesh-85(Anjali32, Nima Doma24) bt Punjab-81(Harismran Kaur22,Anmol Preeth Kaur19) (18-16,21-16,19-29,23-24)
Andhra Pradesh-34(*Dhanyalakshmi8) bt Odhisa-31(Jayasree12) (3-4,10-9,10-10,11-8)
Meghalaya-34(*Iairy Susana16,Ucila Pyngrope13) bt Uttarkhand-35(Swati8)
(5-11,16-10,13-10,20-4)
Jharkhand-42(*Aiza Khah19) bt Goa-20(*5-11,2-17,6-8,6-6)
Chandigarh-63(Meeru17,Anjali12,Liza Dea10) bt Bihar-56(Lithara KC21, Radha gaur12) (10-14,13-12,17-20,16-17)
Madhya Pradesh-68(Nima Doma25,Namaria18,Anjali16)