70th senior national basketball championship day 7
It's Indian Railways to meet  Kerala Women in Women Final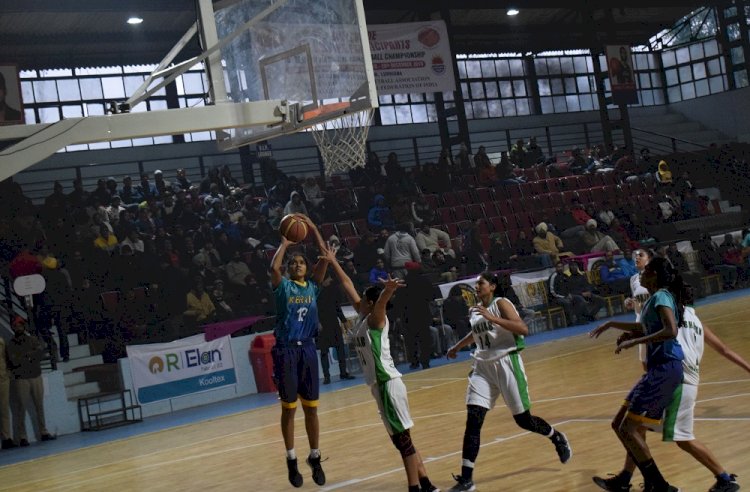 Jeena PS scoring against Punjab in the Semi Finals .
Ludhiana:  The semi final matches of the 70th Senior  National Basketball Championship for Men  and Women got underway at the Guru Nanak Dev Stadium in Ludhiana 
The Championship is being organized by the Punjab   Basketball Association under the aegis of  Basketball Federation of India.
In women final Indian Railways  will now take on  Kerala women, in the final
Indian Railways  showed excellent composure defeat Madhya Pradesh 106-37 after leading 56-31 at the Intervel  in the first semi-finals. With tall lanky Poonam Chathurvedi top scoring for railways with21 points  followed by Sruti Aravind contributing 17 and Sathya with15
The Second  semifinals saw Kerala  Women continue their undefeated run ,Kerala which had an easy outing against Punjab find it  a tough match  this time as they beat  Punjab  with the score 73-62  . Jeena PS was again the top scorer with 27points followed by ANjana PG with19 and  Centre Stephy Nixon  contributed with 15 points of her own. For Punjab Harismaran Kaur led her team with 17 points and Anmol Preeet Kaur with 16
Men Semi Final matches are just Started 1st Semi Punjab against Utharkhand and  second one tamil Nadu will meet Indian Railways 
Results from Day 7 (27th Dec  2019)
Girls
Semi finals
1.       Indian Railways -106 (Poonam Chathurvedi20,Sruthy Aravind17, Sathya S15,Madhu Kumari 12, Nivyaraj10,Pushpa S10) bt Madhya Pradesh-37(Divyani Gangwal17) (33-18,23-13,32-1,18-5)  
2.       Kerala 73 (Jeena PS27,Anjana PG19,Stephy Nixon15)Punjab -73(Harismran Kaur19,Anmol Preet Kaur16) (18-13,18-12,19-18,18-19)
5 to 8 Classification Matches
Women
Karnataka -59 (Lopamudra13) bt Delhi-45(Aparana Saini15) (21-11,10-4,9-8,19-22)
Telengana -75 (Divya Palanivel34,kiran Prajapati14,GulabSha Ali13) bt Maharashtra -66(Anishika Kanoja18,Shrya Dandekar13, Neha Shahu11) (20-24,15-17,25-9,15-16,)
Men
 Karnataka-75(Anil Kumar BK16,M Harish15)   bt  Haryana -62 (Vkranth19,Mohit Futela16 (21-30,10-11,14-10,17-24)
Kerala-75(Grigo Mathew 21, Rahul Sharath20,Sejin Mathew14,Jishnu Nair14) bt , Services-56(Nikhil Kumar 22, Joginder Singh10) (16-17,23-7,16-19,20-13)
UPDATE: 
Punjab 79
Uttarakhand 67
Punjab beat Uttarakhand finally.