7 days FDP at PU concludes
Participants after last session shared their feedback and experiences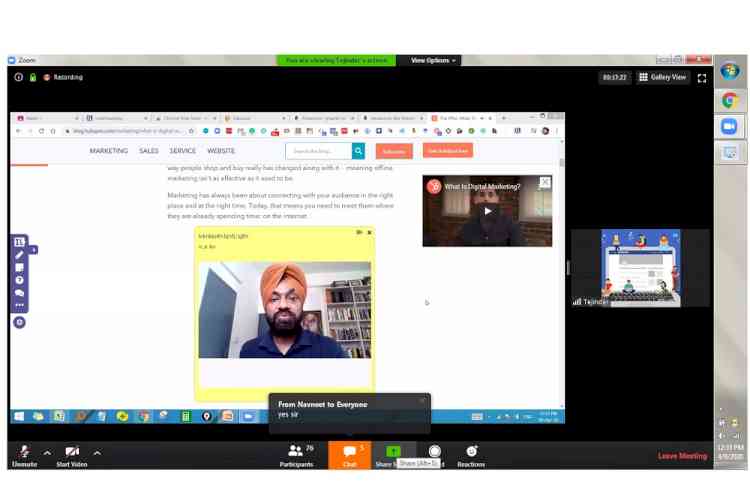 Chandigarh: Centre for Academic Leadership and Education Management (CALEM), Department of Education, Panjab University Chandigarh conducted sessions for various aspects of Learning Management systems (LMS) on the concluding day of the seven days' faculty development programme on "MOOCS: Instructional Design, Development and Learning Analytics". 81 teachers from 14 universities are participating in this workshop
Resource person Mr. Ravinder Kumar Gill from McGill University, Canada interacted with the participants through Zoom, the Video conferencing platform during the first session. He is involved in the consultancy services related to the integration of technology in the classroom and designing instructions and curricula for both face-to-face and online modes. He gave an online presentation on the Management of learning and LMS. He briefed about the teacher-learner perspective of LMS. He explained the benefits of using LMS by teachers and students. 
He also explained the limitations and advantages of popular LMS used in higher education Like DESIRE2LEARN, Canvas, Moodle, Sakai, Open EdX, Google Classroom and Google Course Builder. He showcased practically the various aspects of Blackboard and, Sakai platforms. He shared the features of Blackboard platform which; offers integration of Institutes SIS (Students Information System), compatibility with mobile and desktop platform, online web conferencing, and provides effective synchronous and asynchronous collaboration. He also showcased the LMS portal used by the McGill University. He shared course outlines, Rubrics, Resources for Learning being used by him on the LMS. He also explained the advantages of Free Opensource Softwares used for creating and teaching online and digital content. He recommended the use of Canva, audacity, Gimp, Adobe Spark, Prezi, eportfolio (Weebly, Wordpress, Wix). 
The second session was on various aspects of Google Classroom and various software used for the online teaching-learning process by Dr. Tejinderpal Singh from UBS, PU. He shared various software used for screen capturing and creating video content for MOOCs. He explained the various features of Loom which is an Easy and free screen recorder for Mac, Windows, and Chromebooks., edPuzzle which Easily create beautiful interactive video lessons for integration into your LMS, Insert Learning which is used to embed discussions which help all student to share their ideas while reading. 
He further told that students can also annotate any web page and share what they think is important in the Insert Learning App and is very useful in blended or flipped classroom scenarios.   
Prof. Jatinder Grover, Coordinator CALEM and Dean Faculty of Education, Panjab University,  thanked Mr. Ravinder Kumar Gill and Dr. Tejinderpal Singh for sharing their expertise with the participants during the online faculty development programme. 
 Dr. Vishal Sharma (Coordinator, Swayam) and coordinator of the course moderated the sessions on LMS platform and gave valuable inputs during the discussion in the online sessions. 
The participants after the last session shared their feedback and experiences and learning outcomes from the seven days' faculty development programme on "MOOCS: Instructional Design, Development and Learning Analytics.