65th Senior National Wrestling Championship concludes at LPU with 'SSCB' as Best Team
With overall 190 Points Services Sports Control Board (SSCB) got 1st Position; and, Railway Sports Promotion Board (RSPB) has 2nd Position with 170 Points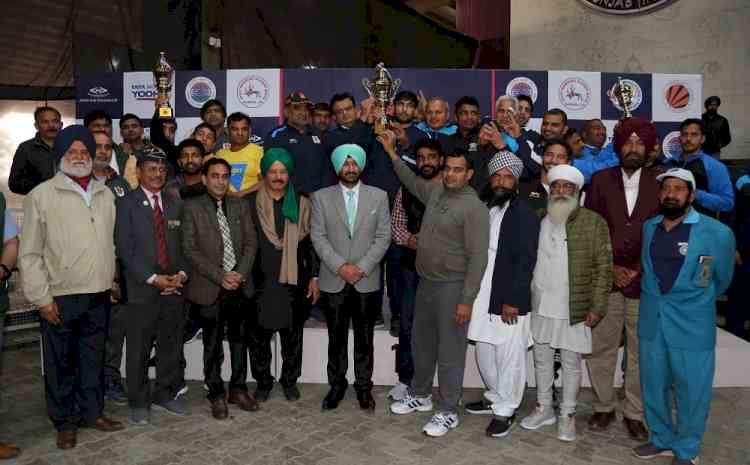 Wrestlers of the 'Services Sports Control Board (SSCB)' holding the 'Best Team' trophy during 65th Senior National Wrestling Championship concluded at LPU.
Jalandhar: The two-day 65th Senior National Greco Roman Style Wrestling Championship concluded at LPU Campus where wrestlers of the 'Services Sports Control Board (SSCB)' got declared as the 'Best Team' and awarded the overall championship trophy. With 111 points Punjab Team lifted 2nd Runners-Up Trophy of the Championship with Gurpreet Singh (77 Kgs) & Harpreet Singh ( 82 Kgs) winning Gold Medals; Prabhpal Singh (87 Kgs) Silver; and, Narender Cheema (97 Kgs) Bronze Medal. With overall 190 Points SSCB got 1st Position; and, Railway Sports Promotion Board (RSPB) has 2nd Position with 170 Points.
Punjab's ace-wrestlers Gurpreet Singh won Gold without yielding a point; and, Harpreet Singh defeated his competitor in just 48 seconds.  Gurpreet & Harpreet of Punjab and Sunil of RSPB have continued their dominance in national 'Greco-Roman' style wrestling, and have further got a chance for their participation in Italy for the prestigious 'Matteo Pellicone Rome Rankings'.
On the conclusive day, Gold medal winners in 5 weight categories of 63 kgs, 72Kgs, 77kgs, 87 Kgs and 97 Kgs are Neeraj (Delhi), Kuldeep Malik (RSPB), Gurpreet Singh (Punjab), Sunil Kumar (RSPB) and Deepanshu (SSCB) respectively. On the inaugural day Arjun of SSCB, Manish of RSPB, Gaurav of UP, Harpreet of Punjab and Naveen of SSCB had won Gold medals in the weight categories of 55Kgs, 60Kgs, 67Kgs, 82 Kgs and 130 Kgs respectively.
Supported by Wrestling Federation of India (WFI), Punjab Wrestling Association (PWA) and Jagjit Wrestling Academy (JWA), the Championship witnessed nearly 400 wrestlers in action under ten weight categories amid much admiration and applause. One of the most prestigious wrestling tournaments of the country, it saw aggressive competitions with full sportsman spirit for national titles. Also known as Tata Motors' Greco-Roman wrestling event, it has completed the three-part national championships conducted by the Wrestling Federation of India. It also includes the Freestyle and Women's events.
Prominently present during the award ceremony were seven-time MP of UP Brij Bhushan Sharan, Jagjit Singh Saroya of JWA, Padma Shri & Arjuna Awardee Kartar Singh, Padma Shri Pargat Singh, Professor & Head Division of Student Welfare at LPU Dr Sorabh Lakhanpal, Arjuna Awardee Sajjan Singh Cheema, Olympian Referees Ashok Kumar, Satyadev Malik and more. /(February 22, 2021)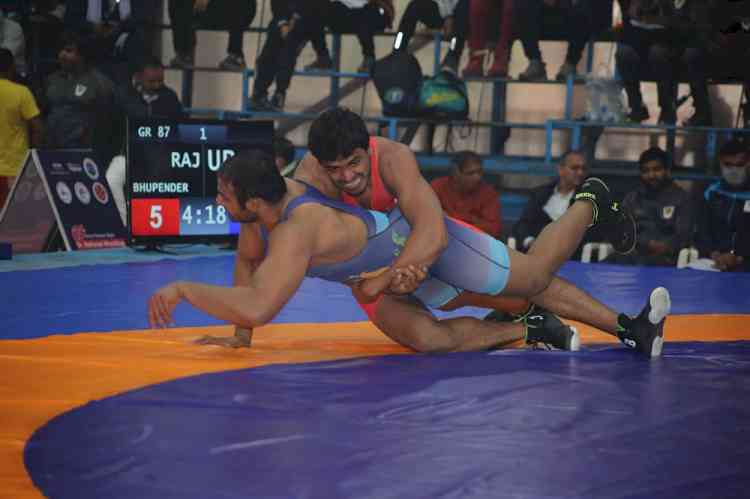 Wrestlers from various states of India participating in 65th Senior National Wrestling Championship at LPU.