6.270 Kg heroin worth Rs 32 crores recovered by police 
The consignment was wrapped in six packets covered with yellow tape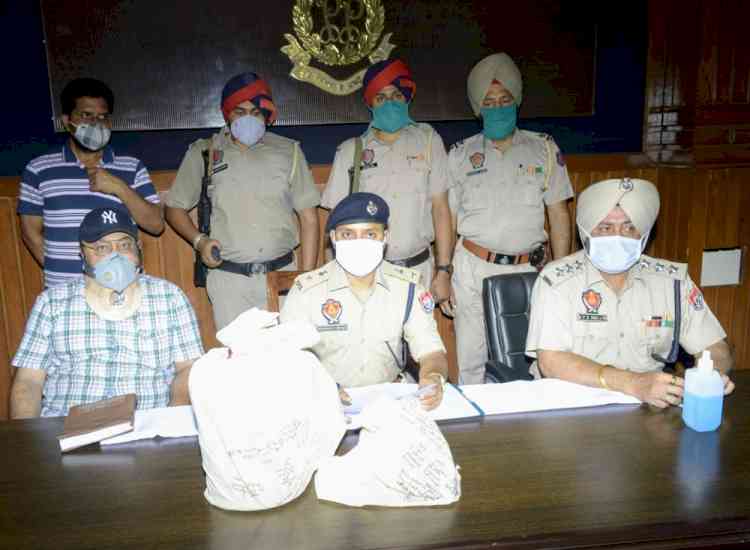 Ferozepur: Sleuths belonging to Narcotics Control Cell (NCC) have nabbed an Indian smuggler identified as Raj Kumar alias Raja, a resident of city area and have recovered 6.270 Kg heroin worth Rs. 32 crores (approximate) following the information provided by him. 
Bhagirath Singh Meena, SSP said that following the inputs the police had nabbed the accused yesterday and had recovered 270 gram heroin from him following which the accused was booked under 21,61,85 NDPS Act at Sadar police station (FIR Number 46 Dated 19.04.2021). "During the investigation it came to fore that the accused is involved in the illegal trading of drugs and had developed links with the Pakistani drug smugglers during the recent years. As per the information provided by the accused, 6 Kg heroin was recovered near BOP Shame Ke during a joint search operation with the sleuths belonging to 136 Battalion of BSF near border pillar number 186 of gate number 186 from the fields situated across the fencing. The consignment was wrapped in six packets covered with yellow tape.", said SSP Meena. 
Earlier, on April 7, the sleuths belonging to NCC had nabbed an Indian smuggler with 110 grams heroin and later 7 kg heroin worth Rs. 35 crores were recovered based on the information provided by the accused.