5th CICU export promotion committee meeting held 
Discusses about impact of coronavirus on export, international trade and other issues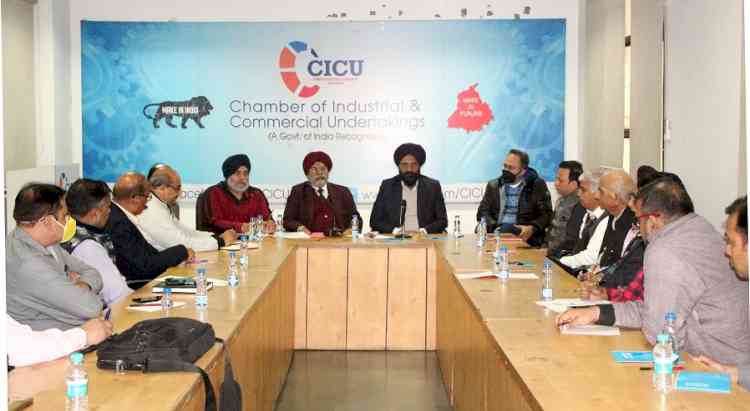 Ludhiana: 5th Chamber of Industrial and Commercial Undertakings (CICU) export promotion committee meeting held here today, in which discussions about impact of coronavirus on export, international trade and other issues such as pending IGST/GST refund were held.
Speaking on the occasion, Upkar Singh Ahuja, President, CICU, said that export promotion committee is working to resolve the issues of members regarding export with DGFT, ministry of external affairs, customs, banks and shortly a meeting with top official of these departments.
 
Ahuja also mentioned that CICU follow-up the pending GST Refund from long time, now Punjab Government released pending GST refunds.
 
Due to coronavirus India banned by South African states i.e. Uganda, Zambia, Burundi and others and payments of the exports stuck.  He also advised to the Industry to implement measures for preventing their workers from coronavirus. CICU also issued advisory amongst the members.
 
He also discussed the issue of Export Data Processing and Monitoring System (EDPMS) by RBI, where exporters are getting notices even where the full payment has been realized and EBR'c has been issued by the concerned AD's. It was decided to give representation to RBI officials in this regards.
 
J.S Bhogal, Publicity Secretary, CICU suggested to take measures against coronavirus, if the problem persist  longer it will hit the industry badly in term of export.
 
Ram Lubhaya, Convener of Export Promotion Committee discussed the issues in IGST/GST Refund. He also said that the members should take the benefits from the all meeting/training programs and request CICU for quick action instead of waiting for the meeting. He also said that the issues being faced by the exporter will be discuss with DGDFT, Banks and Custom Department.
 
Sarvjit Singh, Co- Convener of Export Promotion Committee said that presently Ludhiana customs is disbursing IGST refunds very fastly and also helping the Exporters with pending cases where there are some clerical errors by the exporters. Refunds for the month of January, 2020 has already been cleared.
 
He also highlighted the issue of Interest subvention (being given by Government of India at 5%) which is only up to 31st March, 2020. He pressed for the continuation of the above subvention in present global economic slowdown scenario.