51 associations meet Police Commissioner against harassment and corruption by GST officials
Say they will not allow departments to harass Industrialists and traders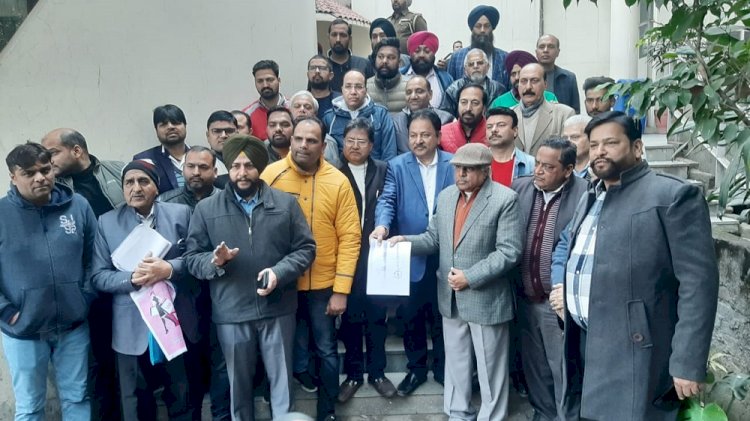 Ludhiana: 51 Business Associations under the banner of Business Bachao Morcha met Police Commissioner Ludhiana Rakesh Aggarwal and lodged formal complaint against GST department officials for alleged harassment and corruption. The Association members also sent copy of complaint to Prime Minister, Director GST Council, Chief Minister Punjab, Governor of Punjab and Director General of Police (DGP).
Gurdeep Singh Gosha, President of Business Bachao Morcha, Sunil Mehra, Harkesh Mittal, Balwinder Singh Bhuillar, Sarabjit Singh Shunty, Sukhwinder Singh Babu, Manwinderpal Singh Middha said that some GST officials went to a hosiery unit and allegedly demanded Rs 15 lakh bribe. The officials also harassed the trader.
The Associations which met Police Commissioner included Tour and Travel Association, Scooter Association Subhani Building, Mochpura Bazaar Association, Kidwai Nagar Shopkeeper Association, Books Market, Ludhiana Hot Mix Plant Welfare Society, AC Market Association, Jain Colony Property Dealer Association, Dal Bazaar Association, Purana Bazaar Hosiery Association, Gur Mandi Shopkeepers Association, Kirpal Nagar Hosiery Association, Akalgarh Market Association, Electronic Market Association, Beopar Mandal Punjab Pradesh, Talab Mandir Road Shopkeeper Association, Kesarganj Mandi Shopkeeper Association, Caliber Plaza AC Market, SS Jain Sabha Sunder Nagar, Chaura Bazaar Association, Meena Bazaar Association, Sarafaan Bazaar Association, Pindi Gali Association, Girja Ghar Association, Daba Road Association Sherpur Chowk Market Association and others.
The members of associations said that they have joined hands and will not allow GST, Income Tax and other departments to harass Industrialists and traders. They said that they will launch agitation if their demands are not met. 
On this occasion, Balwinder Singh Khalsa, Jagjit Singh Neeta, Kuldeep Singh, Sajan, Vishal Amar Sharma, Happy Makkar, Baljit Singh Pappu and others were present.