500 plus city doctors at a CME program on "Latest Technological Advancements in Radiology & Laboratory Services"
Author(s): City Air NewsDr Arunark Kolipaka, Dr Sandeep, Dr. Smitha, Dr Safa, Suresh, Chairman of Tenet and Sricharan, Executive Director of Tenet. Hyderabad, April 4, 2019: Dr.Eike Nagel, a world authority in "Translational Cardiovascular...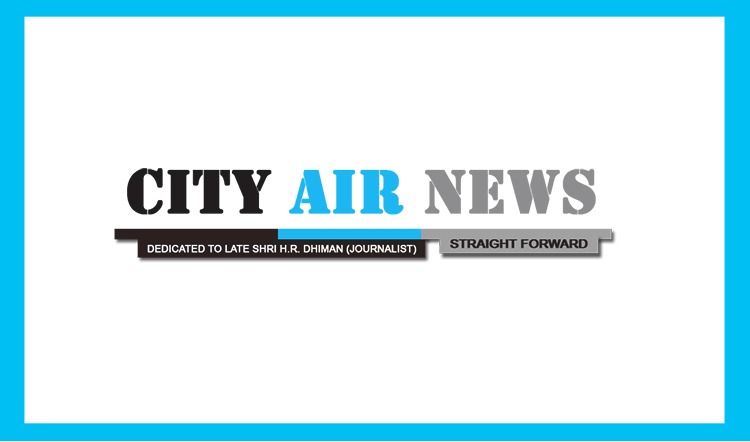 Hyderabad, April 4, 2019: Dr.Eike Nagel, a world authority in "Translational Cardiovascular Imaging" from Germany address 500 plus city's top doctors at a CME program organized by Tenet Diagonostics on "Latest Technological Advancements in Radiology & Laboratory Services" in the city on Thursday evening at Hotel Grand Kakatiya,
Dr.Eike Nagel, Professor and Director of the Institute for Experimental and Translational Cardiovascular Imaging, University Hospital, Frankfurt, Germany along with Dr. Arunark Kolipaka, Associate Professor, Technical Director of MRI, Department of Radiology at The Ohio State University Wexner Medical Center, Columbus, USA will addressed the 500 plus who's who of the medical fraternity in the city, comprised of Cardiologists, Neurologists, Gynecologists, Pediatricians and Critical Care experts are expected to participate to listen to the world renowned authorities.
Tenet Diagnostics, a leading and one of the top integrated diagnostic services providers in the country organised it to create awareness. "Awareness about the diagnosis and the disease is the first step in battle against any major ailment" informed Dr. Sandeep Juvvadi, Director of Radiology and Imaging Sciences of Tenet Medcorp while addressing the press conference prior to the CME Program.
Translational Cardiovascular Imaging is a patient-friendly and accurate cardiac damage diagnosis method now able to show via heart imaging that cardiac damage can be diagnosed way ahead of the clinical symptoms. This is developed by an international research team headed by the Institute for Experimental and Translational Cardiovascular Imaging at the University Hospital Frankfurt. Dr. Eike Nagel is a pioneer in this world, explained Dr Sandeep.
This is a trans-disciplinary approach with long term goals of improving risk prediction and risk stratification for people with suspected or at risk of cardiovascular disease. This method enables in obtaining all of the relevant clinical parameters in the least amount of time, usually in 30 to 40 minutes. This new method overcomes all the limitations of Cardiovascular disease assessing methods existing so far. It is a fool-proof method in the diagnosis of the Cardivascular diseases diagnosis informed SriCharan, Executive Director of Tenet MedCorp.
It is often stated that 70% of medical decisions are driven by diagnostic testing. The range and ability of diagnostic tests is constantly evolving, helping to detect diseases earlier, in more detail, and across all disciplines. Effective diagnosis is half of the treatment. Hence, it is only important to develop latest Diagnostic Equipment and Technologies; they must be made known to medical fraternity for effective treatment. Idea behind the CME Program, Tenet Diagnostics informs is to make use of the state-of-the-art diagnostic equipment, to diagnose the condition, treat it before it becomes a major health issue.
Tenet Diagnostics was started 8 months with one location at Banjara Hills in the city and expanded to 9 locations across Hyderabad and Bangalore and looking forward to add more, informed Sricharan Devineni, the young Executive Director of Tenet Medcorp. We will add four each new branches in Hyderabad and Bangalore in next couple of months. Then we will expand to East India Market he said.
Suresh, Chairman of Tenet Medcorp said, they have already invested Rs 35crore in setting it up. Currently they are doing a turnover of Rs 3crore a month. We plan to pump in another 35 crore in next two years. These funds will be raised through debt and equity, he informed. In next one year we will have an integrated facility where Lab, Research, Training will be at one place, he informed
85 per cent of Indian diagnostic market is unorganized and only 15 per cent is organized. The potential of both Telugu states is put at Rs 1300crore. The size of the Indian market is put at Rs 22,000crore and it is growing at the rate of 20 percent per annum.
We have tie-up with University of Seoul, Korea for clinical trails, they explained
The mission for us at Tenet is to revolutionize the world of diagnostics with state-of-the-art Radiology and Laboratory services. Our aim is to better the diagnostic landscape to create an unique model, he stated.
Research and Technology enhancement are ongoing processes at Tenet. This will be aided by collaborations with leading Universities, Knowledge Centers from the western world, Sricharan explains. We have already signed a MoU with The Ohio State University and industry leader Siemens Healthcare for master research. This will enable it with advanced imaging and pathology techniques to provide solutions to some of the most complex clinical ailments Sricharan explained.
We are the one of the fastest labs, Sricharan said to have achieved NABL (National Accreditation Board for Testing and Calibration Laboratories) Accreditation
Tenet boasts of some of the best equipment in the industry such as Magnetom Skyra, A 3Tesla system, capable of some of the most advanced studies in MRI such as the MR Elastography, 4D Flow quantification, Arterial Spin Labeling as well as the extremely fast sequence called the "GO BRAIN" protocol, a boon for claustrophobic patients, the extremely critical and pediatric patients, in whom the entire brain scan can be performed in 5 minutes.
Another protocol "FREEZEIt" is an advance technique that can enable acquisition of images under free breathing, an important tool to image patients who cannot hold their breath.
Tenet has "Liver Lab", another first in the industry. It is a comprehensive imaging package to quantitate fat and iron percentage in the liver along with information on fibrosis using the advance protocols, Sricharan stated.
For cardiac imaging it introduced "Myomaps" a novel imaging technique to characterize inflammation, focal infarcts along with diffuse fibrosis in the heart to diagnose complex heart failure symptoms with accuracy
Another path breaking innovation is the concept of the "Recovery Room" , which has been incorporated in the Diagnostics space for the very first time in all our centres aiding post Anaesthesia recovery and stabilisation of most critical patients and we are proud to have catered this service from a 1year old to a 90year old patients so far, Sricharan shared with pride.
In the laboratory medicine space for the first time in the both Telugu states we have introduced a new and unique system called Liquid Chromatography and Mass Spectrometry (LCMS) system is another first in telugu states and feather in its kitty. This is capable of diagnosing 200 plus different metabolic disorders with a single heel prick in a new born with a potential to save these children from some of the most critical disorders, capable of destroying their childhood. Also this system is effective for therapeutic drug monitoring, Vitamin estimation.
Government of Kerala and Goa have already mandated the screening of the new borns. This mandatory screening for congenital metabolic disorders, can have long-term and irreversible developmental outcomes.
Kerala soon would like to make it mandatory in all private hospitals as in government hospitals now to improve the quality of life of every newborn by identifying and treating disabilities.
The LCMS system at Tenet is a boon to many parents. It can help them prevent many serious ailments, medical conditions such as Merntral Retardation, serious damages etc. This will reduce disease burden.
On Critical Care front too it has some of the state of the art equipment such as Multiplex PCR, adds he. The is another unique system capable of diagnosing and isolating bacteria and viruses in a short period of 6 hrs compared to conventional 36 hrs in current practice, thereby giving the physicians the valuable lead time to diagnose and institute appropriate treatment to differentiate between life and death situation, especially in the very young and the very old, who are specially susceptible to some very destructive infectious diseases,
Dr. Eike Nagel talked more on the subject, progress in this area and trends in the CME Program.
Dr. Arunark Kolipaka addressed on recent advances in the Radiology. He is an inventor and has filed many patents for the same. He hails from Telangana and now lives in USA.
The CME Program was moderated by Dr. Safaa Muneer, Consultant Bilologists and Dr. Sandeep Juvvadi, Director of Radiology and Imaging Sciences, Tenet MedCorp, Hyderabad
Dr. Safaa Muneer spoke on infectious diseases. In a current scenario many patients see doctors after unsuccessful attempt of using antibiotics without relief. Diagnostic tests in such situations do not give proper results. So one has to go for "Multiplex PCR", a DNA based diagnosis system. Viral infectious diseases represent an important portion of global public health concerns with thousands of deaths annually. He will through more light on the unique methods developed by Tenet Diagnostics on the same as well as on various viral fevers. The proposed CME program presents a glimpse of recent advances in diagnostic testing for viral infections and others.
Dr. Sandeep Juvvadi gave a brief overview of trends in Radiology that will define treatment in future. He also gave overview of how advanced technologies and technique are put to use for effective diagnosis.
Tenets tagline is "Its good to know". Knowing your health is half the cure. The cutting edge equipment Tenet hope to deliver the promise.