50 TPOs put forth their views on "possibilities of training and placement" during covid 19 pandemic
I.K. Gujral Punjab Technical University organized virtual TPOs Meet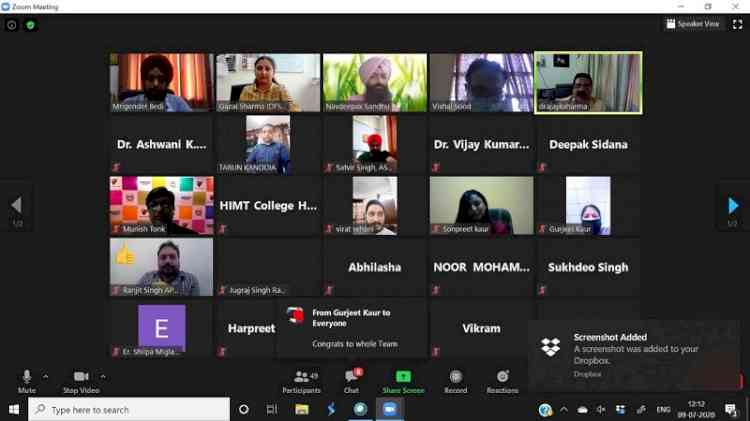 Jalandhar/Kapurthala: In this COVID 19 pandemic, Training and Placements are two important subjects, where contemplation is going on all over the world. In such situation, it is important to discuss this subject at the local level, share each other's experiences and explore new possibilities at the world level. For this purpose, a virtual meeting was organized by I.K. Gujral Punjab Technical University among over 50 training and placement officers of its affiliated colleges. The meeting was chaired by Prof. (Dr.) Ajay Kumar Sharman, Vice Chancellor of the University. Sharing his experience, Vice-Chancellor Prof. (Dr.) Sharma said that in the present situation a new market of possibilities has been created, in which big companies are now offering jobs on less scale, but new employment opportunities have arisen. He also talked about his recent experiences of MNCs job sector. VC Prof Sharma also addressed questions which are currently being raised by TPOs.
 
During this meet, Vice Chancellor Prof. (Dr.) Ajay Kumar Sharman also launched a placement portal developed by the university. He further said that the Placement Portal will help university campuses and affiliated colleges in managing placement related data more efficiently and students will be benefiting by using various job related features of the said portal. During the TPO Meet a detailed presentation regarding the working of Placement portal was also given.
 
The portal will enable TPOs of affiliated colleges to update placement data online. Information regarding various Internship & Placement events will be shared with colleges and students through this online. Using this portal Students can also generate online resume. Students will also get updates through SMS regarding various events to be organized by the University.
 
Addressing the participants, Er. Navdeepak Sandhu, Deputy Director (CR&A) elaborated the features and benefits of placement portal. Dr. Mrigender Singh Bedi, Assistant Director (CR&A) extended vote of thanks to all the participants during the said meet.