5 HOURS RELAXATION NOW IN KANGRA, LIQUOR SHOPS TO OPEN, BARS CLOSED
Public dealing in banks till 2pm now: Prajapati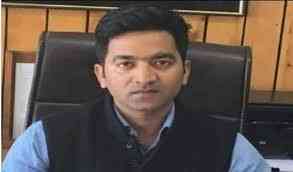 Rakesh Prajapati, Deputy Commissioner, Kangra.


Dharamshala: The curfew relaxation in Kangra district shall now be given from 9 am to 2 pm instead of 8 to 11am. This is disclosed by Rakesh Prajapati Deputy Commissioner today in Dharamshala. Prajapati said, "The shop keepers can open their shops in relaxation period, but neither shop keepers nor the customers are allowed to bring their vehicles in the market. However, they can park their vehicles in the prescribed parking places and walk down to market for shopping."  DC said that now the liquor shops are also allowed to open but the Bars and Aahattas are not allowed to run. He added, "tea shops, halwais, restaurants and dhabas are allowed to work but no one can sit and eat there, only the take away facility shall be given."
Prajapati said that the public dealing shall be carried out in Banks and Post offices and ATMs from 9 am to 2 pm now. He said, "All the government offices shall open now as usual, where class I and II officers shall acted these offices daily, whereas the rest of the staff shall work on roster in 30% attendance daily."
He said that the senior citizens are also allowed a morning walk from 5.30 am to 7 am.
He said that there shall be no need to have passes to move in vehicles within the district in curfew relaxation time, but only two passengers shall be allowed in cars or taxis. This timing is relaxed for the persons performing duties for essential services, he said.
Prajapati said that general OPD shall be starting in Distt Hospital and sub divisional hospitals from 5 th May, whereas it has already started in Tanda Medical college hospital. Buses will not run , but the taxis can operate.
He said that all the shops except Malls, Big shopping centres, Barber shops and saloons will open from tomorrow in the district. He said, "Though marriages are allowed with 20 persons, but I still request the public to perform it with not more than 5 people from each side for the safety of the society. As 35000 persons have already entered from other states in the district through pass and 15000 more will come in nest few days, the risk of infection is high."
He said that on emergency and medical grounds passes for inter -district and interstate movement could be had from district administration, by applying for it on line.
There is no positive case in the district now, and the district has been put in the orange zone.