49,295 People get vaccinated during 2-day special mega drive in district
26483 People got vaccinated yesterday while 22812 got vaccinated today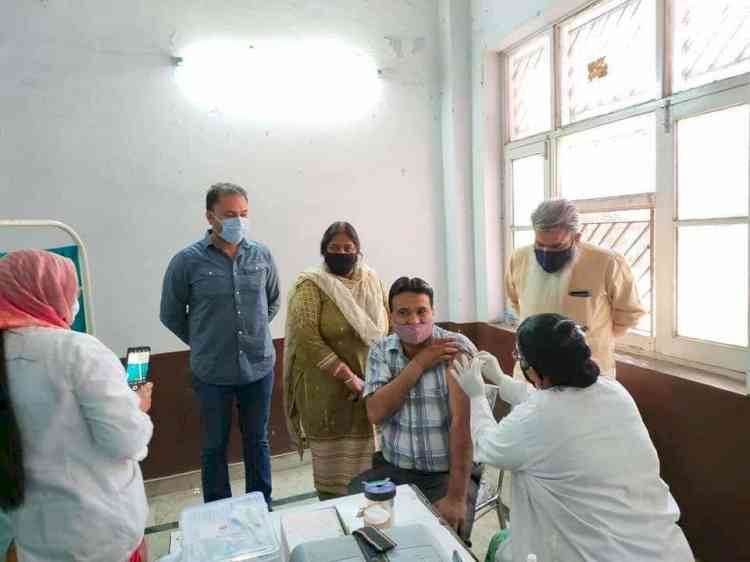 Ludhiana: In a great achievement for the fight against Covid19 and due to dedicated efforts of District Administration Ludhiana, a total of 49,295 people got vaccinated in district Ludhiana during the 2-day special mega drive held yesterday and today. Punjab Food, Civil Supplies & Consumer Affairs Minister Bharat Bhushan Ashu informed that 22,812 Ludhiana residents got vaccinated today, whereas 26,483 people were vaccinated yesterday.
    While specially thanking District Administration Ludhiana, Bharat Bhushan Ashu said that after getting such massive response in last 2 days, this drive would be extended further and urged all residents above 45 years to get themselves vaccinated at the earliest. He said that it is a matter of great pride that now, 2,33,782 are vaccinated, that would go a long way in weeding out Covid19 from our society.
    Ashu said that to ensure that maximum number of Ludhiana residents are vaccinated, the District Administration had started "Vaccination at your doorstep" initiative, under which camps were organised in Mohallas, clubs, factories, business/commercial establishments etc since March 26, 2021. He also congratulated Deputy Commissioner Varinder Kumar Sharma and his entire team for the grand success of this 2-day mega event.
    It is pertinent to mention that the District Administration Ludhiana had organised a special 2-day drive, under which several camps were organised in almost every prominent part of the district.
    Deputy Commissioner Varinder Kumar Sharma said that amid the sharp uptick in the Covid-19 cases in Ludhiana, the district administration on March 26, 2021, had launched a unique initiative 'Vaccine at Doorsteps' to inoculate a larger population in a short period to break the transmission chain of virus. This initiative was a brainchild of MC Councillor Mamta Ashu, who had organised first such camp in Partap Nagar area of the city.