40 experts attend seminar on corrosion impact on infrastructure in city
Amritsar witnesses extreme weather conditions, which results in corrosion of steel products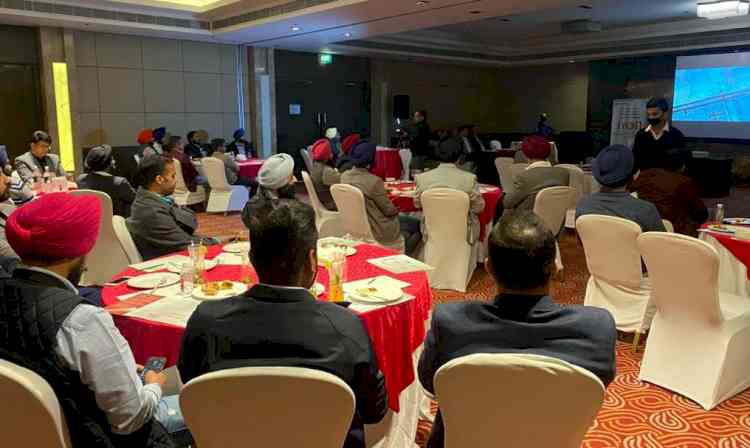 Amritsar: As many as 40 real estate experts including officials attended a knowledge seminar on 'Cutting the cost of corrosion on infrastructure' at Hotel Holiday Inn, Amritsar on Saturday evening. The seminar was organized by International Zinc Association (IZA), which is a leading industry association dedicated exclusively to the interests of zinc and its users.
Among others, Sudhir Goyal MD of Madhav KRG Group, Randhir Rathaur senior VP from Jyoti Steel, senior SGPC officials , architects , structural engineers , contractors and government officials also attended the seminar.
During the seminar, highlighting the concerns over corrosion and its impact on infrastructure and public safety, the experts stressed upon the need for a thorough corrosion protection mechanism that will not only ensure infrastructure longevity but also minimize economic and environmental damages.
Amongst many other issues, galvanizing technologies, which is the process of applying zinc coating to a more noble metal like steel or iron, were also discussed.
Dr. Rahul Sharma, director (India) - IZA said, "India is witnessing large-scale infrastructure expansion owing to the government's push and remarkable initiatives including the smart cities mission. Ensuring the longevity and protection of these structures calls for the need to adopt durable and proven corrosion protection methods, like structure galvanization,"
Amritsar is the headquarter of religious bodies like Shiromani Gurudwara Prabhandak Committee (SGPC) and Shir Radha Swami Satsang Beas, who are building infrastructure not only in Punjab but across India for the devotees and followers . It is prudent for them to build a long lasting sustainable infrastructure for the followers which should be maintenance free for centuries, remarked Dr. Sharma.
Moreover Amritsar witnesses extreme weather conditions, which results in corrosion of steel products. Being a holy town and a place where millions of tourists visit the holy Golden Temple,  IZA asked SGPC to use 'Galvanised Rebar' in their construction of RCC structures.