3x3 Pro Basketball League Season 3 to tip off in March 2022
Basketball Federation of India has granted exclusive recognition to '3x3 Pro Basketball League Indian Sub-continent (3BL)', making it India's only authorized professional 3x3 basketball league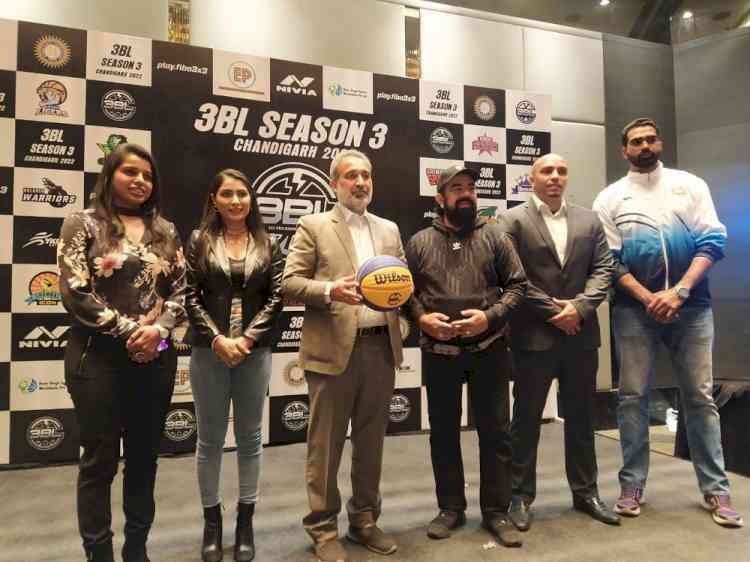 Chandigarh,  December 15, 2021: It's official. Basketball federation of India (BFI) and 3x3 Pro Basketball League Indian Sub-continent (3BL) sign the exclusive contract to promote 3x3 Professional Basketball in India. The dates for 3BL Season 3 will be 5th to 27th March 2022 in the basketball loving city of Chandigarh. 
These announcements were made earlier today a by Mr. Chander Mukhi Sharma, Secretary General - BFI, alongside Mr. Rohit Bakshi, 3BL Commissioner. Also present were senior India international players from Punjab, Amjyot Singh Gill and Palpreet Singh Brar, and female international player Raspreet Sidhu. 
"BFI granted the exclusive rights to 3BL in order to promote 3x3 Professional Basketball in India. 3BL will provide additional income and additional exposure to many Indian Basketball athletes." Mr. Sharma said. "3BL will act as a feeder system for our national teams, especially those that will be participating at the 3x3 events at next year's Commonwealth Games."
"We are extremely grateful to BFI for granting exclusive rights to promote 3x3 Professional Basketball in India." Mr Bakshi said.[1] "3BL is committed to providing a valuable source of income to players, besides exposure to play alongside and against international talents. In addition to BFI's national recognition, 3BL is also exclusively recognized by the international federation (FIBA), which provides multiple unique benefits for many Indian Basketball players." 
Indian Basketball players that participate in 3BL ensures all our players to gain high FIBA 3x3 ranking points. This raises the overall FIBA ranking of the BFI, thereby increasing India's qualification chances for the Olympics. Moreover, top ranked 3BL teams also get the chance to participate in FIBA 3x3 International Championships, which will raise the profile of India's basketball players.
Thanks to BFI's recognition, 3BL becomes a key fixture in India's national basketball calendar that currently includes National Championships across age groups, as well as the Federation Cup for top club teams. Participation in 3BL will help maintain the playing fitness of India's national team members and therefore translate to improved performances while representing the country in FIBA's premier international events.
As in the previous season, there will be 18 franchises (12 Men & 6 Women) vying for the Champions in 3BL Season 3. The rosters for all teams will be announced after an player draft ceremony.