3rd Triennial Conference of Central Bank of India Retirees Association was held
This was inaugurated by S.M.Deshpande, President, AIBRF and AICBRF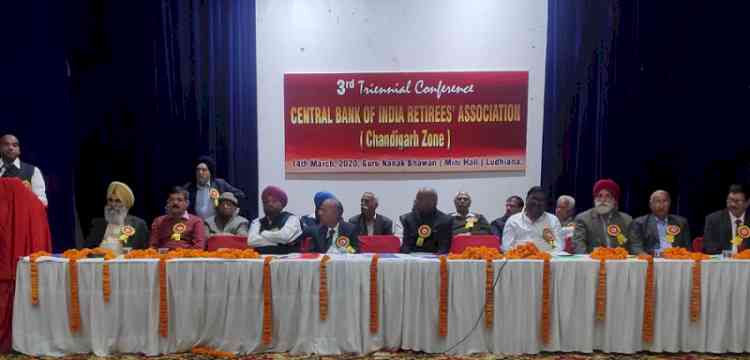 Ludhiana: 3rd Triennial Conference of Central Bank of India Retirees Association was held today at Guru Nanak Dev Bhawan, Ludhiana. This was inaugurated by S.M.Deshpande, President All India Bank Retirees Federation (AIBRF) and AICBRF. 
Ashok Patil was Chief Guest. 
D.S.Sahi, General Manager (Retd) was guest of honour. The delegates and observers from the states of Punjab, Haryana, HP, J&K and Chandigarh attended the conference. While discussing the issues of retirees Com Deshpande said that UFBU is taking up issues of bank retirees in their 11th bipartite demand charter with IBA. We should beware of social media carrying misinformation which is weakening our strength. The issues include enhancement  in family pension, updation as per RBI scheme, 100% DA neutilisation to Pre-2002 pensioners, affordable premium for retirees  group medical insurance policy, apex level forum for AIBRF to resolve retirees issues with IBA/Govt.  
Com D P Maur -Chairman reception committee welcome the delegates observers and other guests  who attended include G.S.Dhir, DGS (Retd.), T.R.Verma DGS (Retd), Com Rajesh Verma, General Secretary CBIEU (NZ), Com Sanjeev Bhalla, General Secretary and Com Gurmit Singh - Dy.Gen. Secretary CBOU (Chandigarh Zone), Com Davinder Singh - General Secretary North States of AIBRF also greeted the conference.