3rd Edition of 'Ruhaniyat Chandigarh Live Show 2021' held
Ruhaniyat is an endeavour to promote the visibility of artistes in a free-thinking society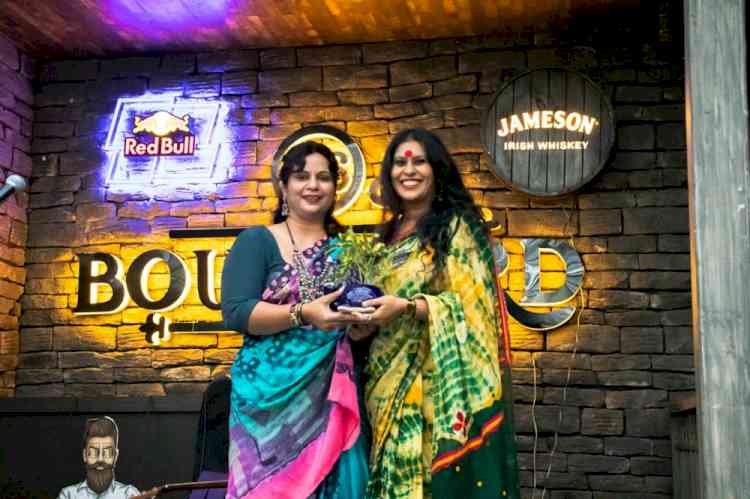 Sharmita Bhinder(R), Founder, Empower NGO felicitating the chief guest Lipi Parida.
Chandigarh:  A Delhi based charitable organization 'Ruhaniyat Foundation' organised the 3rd edition of 'Ruhaniyat Chandigarh Live Show 2021' at 26 Boulevard, in Sector 26 here.
The Chief Guests' of the occasion were wife of UT Adviser Lippi Parida and Pradip Kumar Yadav, IG (Technical), Chandigarh, and the Guests' of Honour were Sunaini Sharma, daughter of Punjabi folk singer Dolly Guleria; Babita Kapoor, a renowned theatre artiste & Poet, and Sharmita Bhinder, a social worker and founder of EmPower NGO.
The event was organised to provide a platform to young local artistes, who want to showcase their art to larger audiences. During the event, two young performers, both autistic - Vaibhav Singh and Yashvardhan Rathore left the audience spellbound with their singing prowess.
The organizers stated that Ruhaniyat is an endeavour to promote the visibility of artistes in a free-thinking society and provide a safe space for expression and acknowledgement.
The organisers informed that through the third edition and upcoming editions, they are trying to find underprivileged artistes of India who are struggling during the pandemic and have no source of income. At Ruhaniyat, the aim is to bring newer artistes into public view and promote different forms of expression, paving a way for artistes to build their confidence so that they become active members of the performing arts' culture.
At the event, merchandise was also distributed to the performers and attendees as a token of gratitude. It is noteworthy that a city based performing arts society - 'The Narrators' partnered in the event. The other partners included 'Munch', 'Tricity Kennels', & 'Cookie Affair' among others.