39 English/SST Teachers awarded for their exemplary role in online education
The teachers have left no stone unturned to ensure quality education to their students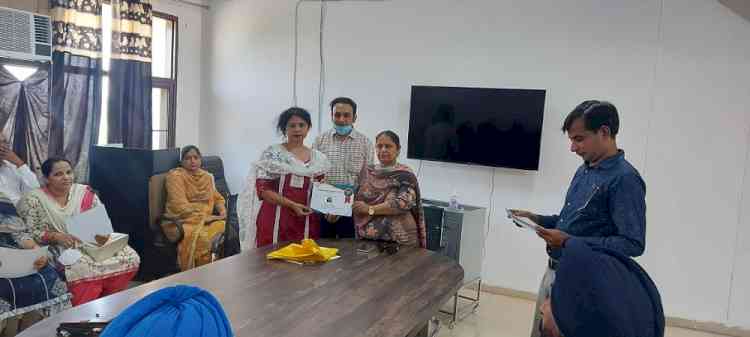 Ferozepur: In yet another gesture of thanking and honouring its teachers for their exemplary role for making online education a success, Education Department, Ferozepur led by District Education Officer (DEO) Kulwinder Kaur and Deputy DEO Komal Arora awarded appreciation certificates to as many as 39 teachers of SST/English subjects.
 
Notably, these 39 teachers are those who have been making all- out efforts to reach out to their students and playing pivotal role in the accomplishment of the tasks assigned by the department. Speaking on the occasion, DM English Gurwinder Singh said, "Though all the teachers are working hard for imparting online education to the students, yet these 39 teachers are cream of English and SST subjects, as they have adopted various novel methodologies to improve upon the efficacy of online education."
 
DEO Kulwinder Kaur said that the teachers have left no stone unturned to ensure quality education to their students, as the school are closed as a safety measure against corona pandemic. In recognition of their services, awards of honour have been conferred upon to the outstanding teachers. 
 
Deputy DEO Komal Arora urged the teachers to continue to work hard so that the students get the maximum benefit of the online education, which has emerged as saviour of enabling imparting of education to the students.
 
The teachers who were honoured on the occasion included Amandeep Kaur, Pooja Verma, Neha Bagai, Sarika , Sunita Rani, Poonam, Meenakshi, Vinod Kumar Gupta, Pinki Rani, Monica Kataria, Meenakshi Soni, Krishan Chopra, Sandeep Kaur, Priya Rani, Deepali Chaudhary, Kamaljeet Kaur, Rakhwant Singh, Reetinder Kaur, Jagsir Singh, Ravi Inder Singh, Sonia Chopra, Seema Rani, Gurmeet Singh, Anjali Vij, Preet Bala, Gurlal Singh, Sushil Kumar, Ved Prakash, Baljeet Kaur, Vibhu Hiteshi, Kiranjit Kaur, Kanwalpreet Kaur, Jaspal Singh, Navdeep Kaur, Neelam Rani, Rekha Rani, Amandeep Kaur and Deepak Kumar.