36th national conference of IATLIS Organised By DLIS, PU
In the inauguration ceremony of the conference, Prof Preeti Mahajan, Chairperson , welcomed the guests and the participants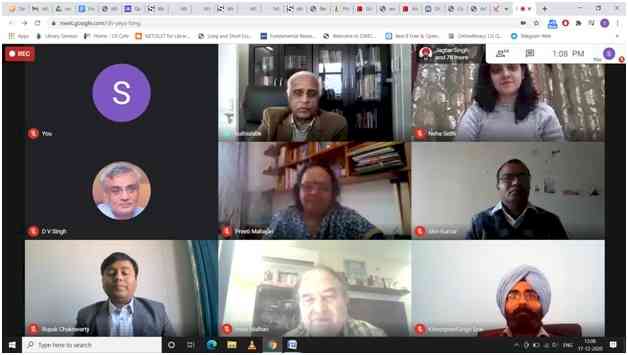 Chandigarh: Department of Library and Information Science(DLIS), Panjab University, Chandigarh is organizing 36th National conference of Indian Association of Teachers of Library and Information Science (IATLIS) in online mode during 17th –18th December, 2020 so to reach out to LIS students, research scholars and the professional colleagues to enhance their professional knowledge and update them in the Library and Information Science field.
In the inauguration ceremony of the conference, Prof Preeti Mahajan, Chairperson , welcomed the guests and the participants. Prof. I.V.Malhan, President IATLIS gave an introduction and brief history of IATLIS. Prof. Jagtar Singh, Director Partnership and collaborations, IATLIS introduced the participants with the theme of the conference.
Prof. Bhaskar Makherji, Head, Department of Library and Information Science, Banaras Hindu University, Varanasi delivered the key note address and highlighted as to what should be done to improve our knowledge skills.
Dr. D.V.Singh, Former University Librarian, University of Delhi, Delhi  was the Guest of Honour, who talked of Impact of COVID on libraries and LIS education.
Prof. B.K.Kuthiala, Chairperson, Haryana Higher Education Council was the Chief Guest. While thanking the IATLIS and DLIS for inviting him to the inaugural session, he expressed his positive views and perception towards the LIS profession while narrating various incidents in his life as a beneficiary of the friendly library services. He mentioned that the LIS teachers have the great responsibility as they educate and train the future LIS professionals. He was impressed by the talks of the previous speakers. He gave examples from the ancient Vedas to elucidate his thoughts. He was of the firm view that the participants will get an opportunity to learn new knowledge and emerging technologies from the two days deliberations. He also emphasized upon the role of technology to be played in teaching and learning in general and LIS education in particular in the aftermath of Covid-19 while everyone is adjusting to the new normal.
Prof. H.P.S.Kalra, General Secretary, IATLIS proposed the vote of thanks. More than 100 participants from different parts of the country and abroad participated in the conference.