3 knee patients treated successfully with new technique
In SLPL technique, no metal or thread stitches are applied on the outer skin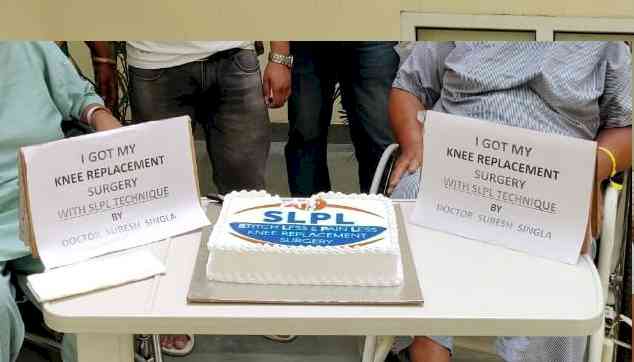 Panchkula: Three patients have successfully treated with a new technique stitchless & painless knee replacement surgeries (SLPL) at Ojas Super Speciality Hospital, Panchkula.
Karnail Kaur (67) from Manimajra, Deviyani Kamboj (52) from Panchkula and Preeto Devi (54) were discharged from Ojas on Sunday and a cake cutting ceremony was also held during occasion.
They were suffering from knee problems and operated for knee joint replacement with SLPL technique.
Dr Suresh Singla, director of orthopaedics & joint replacement at Ojas said that SLPL is getting popular nowadays as more and more patients with bad knees are opting for this new technique.
He informed that in SLPL technique, no metal or thread stitches are applied on the outer skin and rather subcuticular sutures are used with which patient doesn't have to visit the hospital for stitch removal. It is also cosmetically better to give patient pain-free experience. The patient can stand and walk very next day of operation can live an active life afterwards, he remarked.
Meanwhile, Ojas Hospital is taking all essential COVID precautions as guided by ICMR like stringent screening of all patients in OPD and before placing the patients before surgery for any COVID symptoms. Regular fogging & sanitization of operation theatres and other critical areas, rooms, wards, lobby etc are being done.