2406 cases settled during national Lok Adalat 
Total of 7334 cases were taken up for disposal out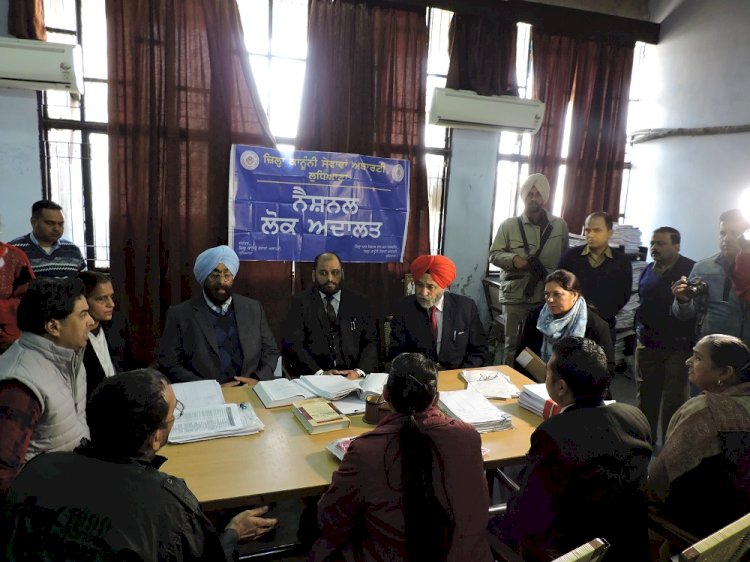 Ludhiana: As per the directions of National Legal Services Authority and Punjab State Legal Services Authority, National Lok Adalat was organised in all the Courts in District Ludhiana and its sub divisions today. These Lok Adalat's were held at District Courts, Ludhiana and at courts in Khanna, Jagraon, Samrala and Payal sub divisions.
Today's National Lok Adalat's were organised under the chairmanship of District & Sessions Judge Ludhiana Mr Gurbir Singh and under the supervision of Chief Judicial Magistrate-cum-Secretary District Legal Services Authority Ludhiana Mrs Preeti Sukhija.
Today, a total of 7334 cases were taken up for disposal out of which 2406 cases were settled by amicable settlement of both the parties. Total Award of Rs.  29,61,56,880 were passed by all the benches.
Disclosing about the Lok Adalat's, Mr Gurbir Singh said that people who are fighting their legal cases for a long time want to settle the cases mutually amongst themselves. He said that in the courts of District and Sessions Judge and Additional District & Sessions Judge, cases related to criminal compoundable cases u/s 138 NI Act, recovery cases, matrimonial disputes, labour disputes, land acquisition cases, service matters, traffic challans, plea bargaining cases, bank loan cases and other civil cases were taken up.
A total of 18 benches for today's National Lok Adalat and each bench was presided by a Judicial Officer and a senior Advocate as well as a Social Worker were also deputed for the assistance of the Presiding Officer.
Mr Gurbir Singh said that Lok Adalat is the best way to achieve cheap and quicker resolution of disputes. If the matter is settled during the Lok Adalat, then the court fee already paid by a party at the time of filing of a case is refunded. The disputes resolved through lok adalat are on the basis of mutually acceptable terms. A decision which is mutually acceptable to both the parties not only brings an end to the long standing dispute but also puts an end to litigation forever, as there is no appeal against the decision/award made by a lok adalat.