23rd Kargil Vijay Diwas: NGO holds its 14th blood and first-ever organ donation camp for Indian Army
NGO 'I Am Still Human' organises blood and organ donation camp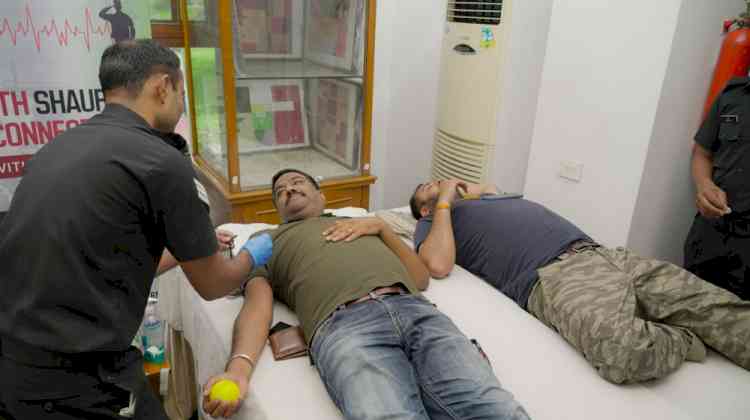 70 volunteers donated blood at blood and organ donation camp for Indian Army held by NGO 'I Am Still Human' to mark 23rd Kargil Vijay Diwas at Capital Complex, Chandigarh.


Chandigarh, July 24, 2022: With the '23rd Kargil Vijay Diwas' around the corner – a city-based NGO 'I Am Still Human' organised its 14th Blood Donation Camp and the first ever Organ Donation Camp for the Indian Army at Capitol Complex, Sector 1,  here.
The 14th Shaurya 'Blood  Connect' and 'Organ Donation' camp was graced by eminent personalities such as Lt Gen KJ Singh, Former GOC-in-C, Western Command; Jagjit Singh, President, Confederation of Real Estate Developers' Associations of India (CREDAI), Punjab who is also  Founder of PCL Gateway and renowned Ayurveda and meditation Guru - Acharya Manish.
The 14th Shaurya Blood cum organ donation camp received an overwhelming response with more than 70 units of blood collected on the occasion and 100 people registered as Organ Donors.
Vivek Mehra, Founder of 'I Am Still Human' said, "When it comes to the Indian Army, we want to leave no stone unturned to be of whatever help we can. While this is the 14th Shaurya Blood- Connect Camp, this is the first-ever organ donation camp with and for the Indian Army. We are trying to do our bit to  make a  small contribution to help  our warriors."
Before the blood-connect camp started a 'Kargil Vijay Diwas Ride' was also flagged off by the event's Chief Guest, Lt. Gen. KJ Singh (Retd), PVSM, AVSM.  To show solidarity for the Kargil War heroes – a significant number of bikers including women bikers from Tricity, Karnal, Jalandhar and Delhi took part in the bike rally which covered the entire Chandigarh area.
 Speaking on the occasion, Lt. Gen. KJ Singh said, "I appreciate this remarkable initiative by 'I Am Still Human'. This youth-based NGO has been working for the welfare of the armed forces since its inception.  With such well-meaning and patriotic youngsters working towards the welfare of the armed forces, the future of this country is bright."
Jagjit Singh said, "It is a commendable effort. What is appreciable is that the camp gave a chance to civilians to show their support for the Indian Armed Forces which were guarding our borders and helping in maintaining peace in the country by even sacrificing their lives for their countrymen. It was a humble tribute to these brave men and women in uniform."
Bhavpreet Singh, another founder at 'I Am Still Human' informed, "It was a one-of-a-kind event for three reasons. Firstly, it was the first ever organ donation camp with and for the Indian Army. Secondly, it celebrated Kargil Vijay Diwas in the presence of the Kargil War Heroes. And thirdly, the donated blood will be going directly to the Indian Army."
It is pertinent to mention here that this camp was organised in association with PCL Gateway, Chandigarh Tourism, Silver Fern Education Consultants, Chandigarh Bytes, The Thumpers Cafe and Big FM.