2022 Assembly Elections-  Start vulnerability mapping of polling stations: DC directs officials
Asks police department to prepare lists of bad characters, weapon holders and status of firs registered in previous elections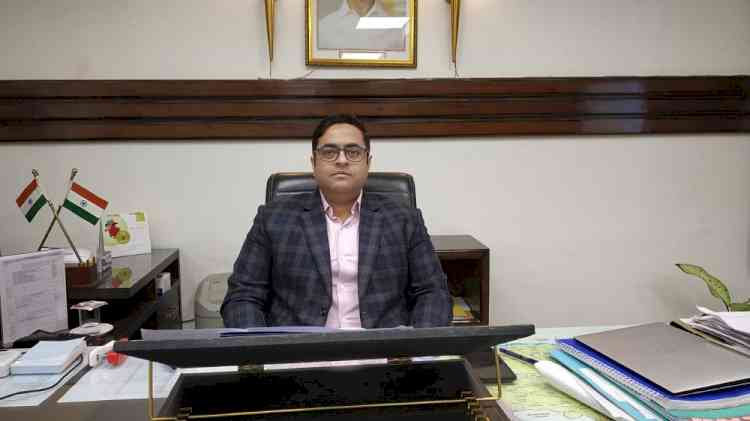 DC Vishesh Sarangal.
Nawanshahr, November 29, 2021: In order to ensure free and fair polling in upcoming 2022 Assembly elections, Deputy Commissioner- cum- District Election Officer Vishesh Sarangal directed the officials to start the vulnerability mapping of polling stations in three assembly constituencies of the district.
Presiding over a meeting with the officials, Saranagal told the officials to give topmost priority to the preparation of vulnerability mapping and directed them to send the reports after completing field visits and identifying vulnerable polling booths.
He asked the police department to prepare the lists of bad characters after holding the meetings with Deputy Superintendents of Police (DSPs) and Station House Officers (SHOs).
He also added that the reports about parole jumpers, history-sheeters, bail jumpers, trouble mongers and others should also be prepared so that close vigil can be kept on their activities. Further, details about arms/weapons which would be deposited before elections and others must be prepared, he added.
He said that information regarding status of pendency of FIRs registered during the previous Assembly Elections 2017 and Lok Sabha Elections 2019 must also be prepared.
The Deputy Commissioner also told the police department to update the lists of the weapon holders in advance so that they can be immediately ordered to submit the weapons once the code comes into force. 
Saranagal ordered the officials to form the joint teams of various departments to keep a check in their areas during the elections.
He told that only vaccinated staff would be deployed for election duty.
Prominent among present on the occasion included Additional Deputy Commissioners Jasbir Singh, Amardeep Singh Bains and others.