20 best government teachers honoured for their exemplary role 
For online education during covid lockdown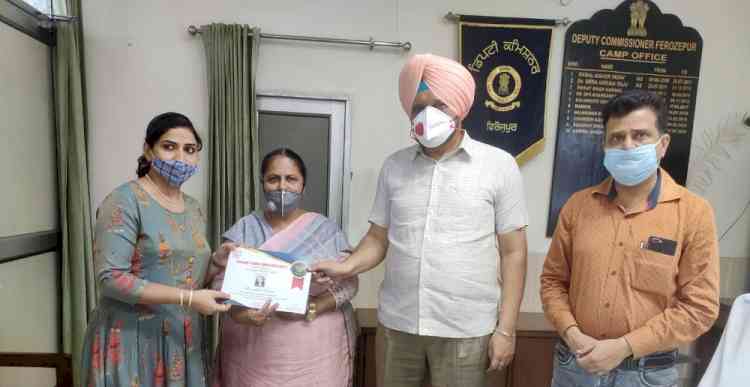 Ferozepur: After conferring certificates of appreciation to the 20 best teachers of the district through online mode on the occasion of the Teachers' Day, District Education Office, Ferozepur led by the district Deputy Commissioner Gurpal Singh Chahal, held a felicitation ceremony to honour these teachers for their exemplary services for online education during the lockdown when the mainstream education stands closed.  
Notably, the department had decided to defer the felicitation ceremony in view of the national mourning following the death of former President Pranav Mukherjee. In one to one interaction with the teachers, the DC accompanied by District Education Officer (DEO) Kulwinder Kaur and Deputy DEO Komal Arora handed over the certificates to the teachers and hailed their role for providing innovative and quality education even during the unusual circumstances prevailing all around the world due to corona. 
Speaking on the occasion, DC said that teachers are the pillars of society and they show the right path to students. There would be utter chaos without teachers. They are the true torch-bearers who keep the world on the right track of social, moral, ethical and economical development. 
DEO Kulwinder Kaur said that the teachers have left no stone unturned to ensure quality education to their students, as the school are closed as a safety measure against corona pandemic. In recognition of their services, awards of honour have been conferred upon to the outstanding teachers.  
Deputy DEO Komal Arora has informed that it was a tough exercise to select 20 teachers for the award on the Teachers' Day, as the majority of the teachers are rendering marvellous services adopting novel ways to make education a fun and memorable experience. These 20 teachers have been selected for their working on various fronts on education. 
The teachers who were awarded on the occasion include DM English Gurwinder Singh, DM Science Umesh Kumar, DM Ravi Gupta, Science Mistress Amandeep Kaur, Science Mistress Hina Chopra, Math Mistress Javinder Kaur, Math Mistress Manjiderjit Kaur, Science Mistress Paramjeet Kaur, English Master Parvinder Singh, English Master Mohinder Singh, Math Master Dimple Monga, Math Mistress Paramjit Kaur, Science Mistress Parmvir Kaur, Math Mistress Indu Singla, Science Mistress Parveen Kaur, English Mistress Rehmat Bibi, English Mistress Payal, English Mistress Meenakshi Vohra, Math Mistress Parminder Kaur and Math Mistress Ritu Kakkar.