2-day-long drive of spraying disinfectant got finished at Panjab University campus
The drive was conducted by the NSS volunteers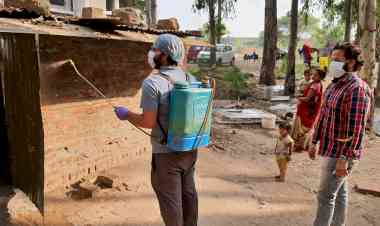 Chandigarh: A two days long drive of spraying the disinfectant got finished at Panjab University campus, Chandigarh today.. This drive was conducted by the NSS volunteers which covered all the construction sites of sectors- 14 and 25 of Panjab University campus. The said drive was executed by volunteers namely Shubham, Narendra and Kavneet Singh with Gaurav Gaur, NSS program officer, PU.
 
This drive  was  part  of the ongoing efforts of NSS,PU initiative named as Mission Maitri.  In this all the hutments of all the migrant construction workers were sprayed with the disinfectent. Doing this work Shubham said that "we have arranged everything at our own, for undertaking this campaign ". He said it is very important to do such a drive  on regular intervals. 
 
Gaurav Gaur shared that, this is the third time in last two months that such an initiative was undertaken by their team. He said that, we as  University employees have this duty to do whatever we can, for our own community members. Besides, this he shared that all NSS program officers had contributed in their best ability financially or otherwise in providing with dry ration, milk and other basic amenities to all of them.
 
 
Dr Navneet Kaur, Dr Purva Mishra, Dr Anupreet Mavi and Dr Nirmal Singh some of the other NSS, Program officers applauded the efforts of these committed volunteers. They also said that more such drives should be conducted. They also said that, these volunteers have really justified the motto of NSS " Not me, but you".