1st National Conference of society of public health education, research and empowerment held
A detailed report on the event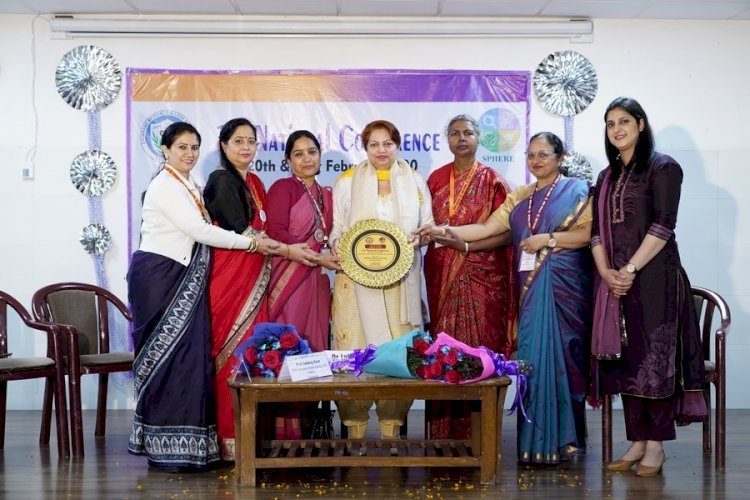 Ludhiana: The Ist National Conference of  Society of Public Health Education, Research and Empowerment was held from 20th to 21st February 2020 at DMCH College of Nursing, Malakpur, Ludhiana. The theme of  Conference was "Filling the gaps in Primary Health Care Challenges for Nurse Practitioners" The Conference kicked off on Thursday with overview of Nurse Practitioner  given  by Dr. Manpreet Kaur, Dr Sushma K Saini and two sessions successively on Nurse Practitioners and Challenges for prevention of diseases and health promotion, role of nurse practitioner in managing expanded service delivery and continuum of care in primary health care chaired by Dr. Sandhya Gupta, Dr. Darshan Sohi, Dr. C P Sharma, Mr. J.C. Frank.
Luminaries of the world of nursing & medical field graced the occasion& chaired the five sessions. During the conference, 42 scientific papers were presented and compiled into compendium and it was released by esteemed guests & dignitaries.
The Chief Guest for the occasion was Dr. Raj Bahadur, Vice-chancellor, BFUHS, Faridkot and the Guest of Honor was Prof. Dr. Sandhya Gupta, Principal of CON (Acting), AIIMS, New Delhi, and former secretary of Indian Nursing Council (INC). Other dignitaries who graced the occasion were Mr. Sunil Kant Munjal, President, Mr. Prem Kumar Gupta, Secretary, DMCH Managing Society, Dr. Samta Soni, President SPHERE, Dr. Sushma K Saini, Secretary SPHERE, Dr. Sandeep Puri, Principal, DayanandMedical College, Dr. Triza Jiwan Principal, Prof. Mrs. Nidhi Sagar, Vice-Principal andProf. Mrs. Sandeep Kaur, Organizing Secretary, DMCH College of Nursing, Ludhiana.
Addressing the dignitaries the chief guest Dr. Raj Bahadur congratulated all members of organizing committee of DMCH College of Nursing forselecting such an innovative & appropriate theme for the conference.He shared that with an outburst of unknown diseases and pandemics, has a significant impact on medical as well as paramedical sectors. So, there is a great need for efficient and trained nurses to cater the increased medical needs of the people and providing excellence in nursing. He believed that issue under reference shall be emphasized in conference to enhance potential of faculty by means of knowledge.
Mr. Prem Kumar Gupta, Secretary DMCH Managing Society emphasized that the theme of conference is aptly chosen as today health care system is focusing on wellness rather than illness to make it  cost effective
Dr. Sandeep Puri, Principal Dayanand Medical College, Ludhiana said there is need of much preparation for next decade of nursing practice must be done without the benefit of certainty.
Dr. Triza Jiwan shared that health requirements are undergoing complex changes at national, inter-national & global level. These challenges make it imperative to strengthen the health care workforce specially Nurse Practitioners.
Prof. Mrs. Sandeep Kaur organizing secretary delivered vote of thanks in the inaugural of conference.
The highlights of evening were cultural programme which was jewelled with Giddha, Western Dance & guest items of Jammu Kashmir state dance by students of nursing followed by banquet/ dinner.
On Friday sessions held onNutritional Health & Use of IT Surveillance, Nurse Practitioner and mental harmony and contributions of Nurse Practitioner in health and wellness which were chaired byDr. Sushma K Saini, Prof. Harjinder Kaur,Dr.Triza Jiwan, Prof. Raj Kumari,
Dr.Swapna, Mr. Rupesh.
In Valedictory the chief guest was Dr Lalita Kumari, President TNAI Punjab State Branch she congratulated the organizing team for the First conference of SPHERE in DMCH College of Nursing, Ludhiana. Dr Triza Jiwan Principal DMCH College of Nursing delivered the Valedictory address. The report of two days conference was given by Prof. Sandeep kaur organizing Secretary of Conference and Vote of thanks was given by Mrs. Amninder Kaur.
With such inspirational, informative and interactive sessions, the two day conference came to an end, raising too many questions and challenges that may impact health care, especially in India. It also gave answers to many existing issues through the numerous innovations that were presented. The generic thought which probably each one of us had was an affordable and accessibility of good health care. For the delegates it was a fiercing experience as they heard well known dignitaries from the field of nursing & medical sciences who shared their knowledge and thoughts.