18th CavinKare Ability Awards honours five exemplary achievers
Event was attended by stalwarts from diverse walks of life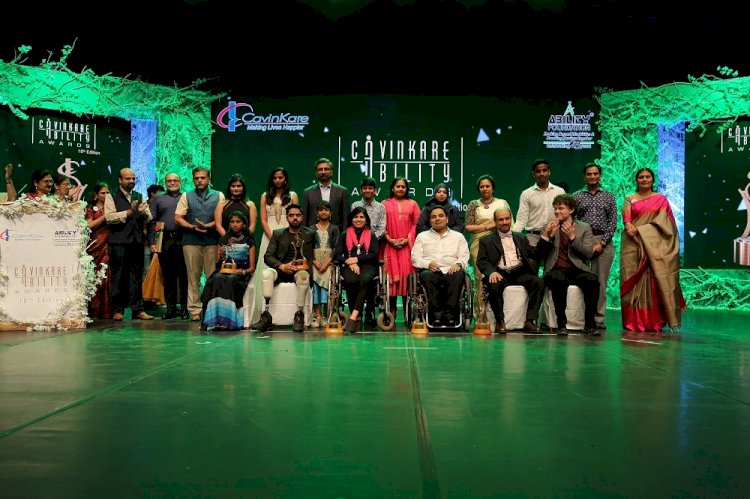 Mumbai: In an effort to recognize and spotlight the achievements of some extraordinary people with disabilities, CavinKare and Ability Foundation jointly organized the 18th edition of the CavinKare Ability Awards in the city on February 15. Held at Sir Mutha Venkatasubba Rao Auditorium, the awards function showcased the exemplary success of five people with disabilities from across the country. The event was attended by stalwarts from diverse walks of life and the esteemed panel of jury. 
 
In its 18th year journey, the CavinKare Ability Awards has recognized the admirable achievements of people with disabilities. Over 65 awardees have stood testimony for breaking stereotypes and challenging the mind-set of the society towards disability. The members of jury this year were Sriram Subramanya, Founder, Managing Director & CEO, Integra Software Services Pvt Ltd, Ishwar Achanta, Hon Treasurer & Council Member, Indian Golf Union & Board member, Asia-Pacific Golf Confederation, Sharada Ramanathan, Film Director & Writer, Suresh Balaje, Film Producer & Lakshmy Ramakrishnan, Film maker, Actor & Television Personality.
 
Challenging the status quo, five-star achievers of this year set an inspiring mood for the evening with their power-packed deeds and speech. Enthralling the audience with their boundless energy and confidence, the outstanding awardees shared their life journey vividly. The evening ended on a high note with both the recipients of the awards as well as the audience, leaving as inspired and empowered individuals.
 
The highlight for the evening was a fireside chat between actress & director, Revathi, and Anindya Bhattacharyya, a global leader in the deaf & blind community
 
This is a one-of-its-kind national level award conceived and curated by Mr. CK Ranganathan, CMD, CavinKare Pvt Ltd and Ms. Jayshree Raveendran, Founder & Hon. Executive Director, Ability Foundation, to showcase the latent talents of people with disabilities and dispel stereotypes. The nomination process for the award had begun as early as 3 months ahead of the event through announcements in all national media and sister organizations.  The nominations thus received are meticulously screened and shortlisted, based on the awardees' difficulty levels, triumph over adversity and uniqueness of the task accomplished. 
 
Commenting on the occasion, Mr. CK Ranganathan, Chairman and Managing Director – CavinKare said, "Each year as we move ahead, the CavinKare Ability Awards continue to inspire us with immensely talented people showcasing their strong grit and determination beyond imagination. This award is a testimony for their perseverance, courage and desire to achieve great heights by overcoming barriers steadily. This year it has also been a very special and proud moment for us as two of our ability awardees, Mr S Ramakrishnan from Tamil Nadu and Mr Javed Ahmad Tak from Jammu & Kashmir have been conferred the prestigious Padma Shri Award during the 71st Republic day celebration held in New Delhi last month. Today as we step into a new year of CavinKare Ability Awards ceremony, bringing into limelight five more achievers has filled our hearts with pride and happiness." 
 
 Ms. Jayshree Raveendran, Founder & Honorary Executive Director, Ability Foundation, To celebrate humanity, to bring out the galaxy of human diversity and to spotlight on the range of talent that exists amidst humankind has been the singular mission of the CavinKare ABILITY Awards. Each year, we at Ability Foundation and Cavin Kare has been are enthused and overwhelmed by the breath-taking scale of nominations that we receive and we are overjoyed to see our eminent jurists mull and ponder and struggle to pick out that year's recipients. I can only say that spotlighting on the recipients each year, for 18 consecutive years so far, has been an amazing and enriching experience. Our country does boast of such persons as these, and it is for every single citizen to be aware and ensure equality and equal opportunity sans bias.