130th Birth anniversary of Dr. B.R. Ambedkar celebrated
Celebrations held at Apeejay College of Fine Arts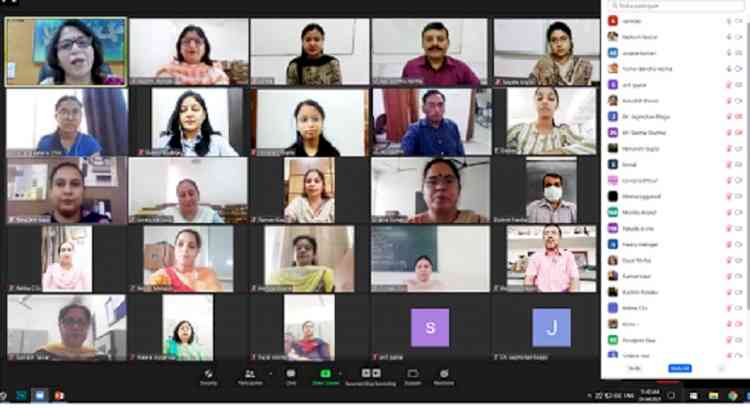 Jalandhar: The Department of Social Sciences of Apeejay College of Fine Arts, Jalandhar celebrated 130th birth anniversary of Dr. B.R. Ambedkar - the Maker of Modern India. It was a third activity in the series of mega celebration of upcoming 75th Independence Day.
While commemorating Dr. Ambedkar and his social services and contribution to the betterment of society, Dr. Neerja Dhingra in the webinar put forth that to remind our youth about such great personalities of our nation is significant. She added Dr. Ambedkar showed the courage to add best features of the other constitutions in our own constitution. 
Ms. Komal from Department of Political Science through a PowerPoint Presentation talked of Dr. Ambedkar and shared with the audience that he was not just an economist, sociologist and politician but also a great server of the society who fought for the rights of women and made them aware about their financial rights. He was also in the favour of women joining politics. She also talked of the long fight taken by Dr. Ambedkar for the rights of Dalit people.
Himanshi Gupta, Surbhi and Simran from Department of Journalism and Mass Communication shared their views about current politics in the light of Dr. Ambedkar's perceptions. 
Mr. Vishav Bandhu Verma from Department of History played the role of host in the webinar and Ms. Rashmi from Department of Philosophy presented vote of Thanks.
Principal Dr. Neerja Dhingra appreciated the efforts of all the faculty members involved for organizing the event smoothly.