12 new hospitals to be opened in state by end of 2020: Sidhu
Says health services being developed in state on priority basis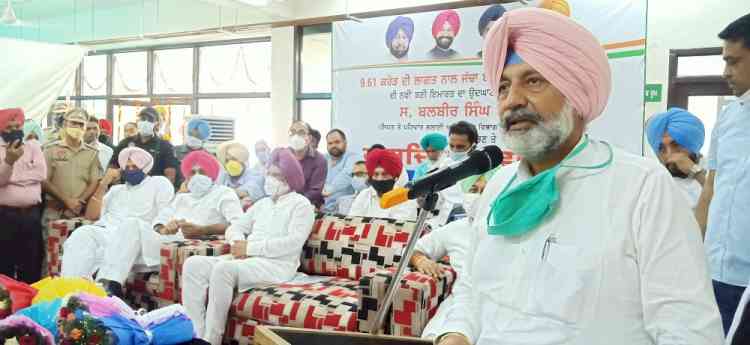 Khanna (Ludhiana): Punjab Health & Family Welfare Minister Mr Balbir Singh Sidhu today the Capt Amarinder Singh led Punjab government is making dedicated efforts for developing world class health services to its citizens. He said that 25 new government hospitals have been started in the state, while 12 more hospitals would be opened by the end of 2020. 
After inaugurating the 30-bedded Mother Child Hospital at Khanna today, Mr Sidhu said that ever since the Capt Amarinder Singh led government was formed in Punjab, special emphasis is being given to health services.
He said that to check the shortage of staff in the department, an agenda to recruit 4000 personnel would be put up in the cabinet meeting shortly. Besides, the services of contractual staff would also be regularised soon.
He assured that the existing building of Civil Hospital Khanna would be repaired and there would no shortage of ambulance. He said that he would also raise the issue of opening of a medical college in area with the Chief Minister.
Mr Sidhu said that the performance of Punjab in fighting COVID 19 has been commendable and saving peoples lives is our priority. He also urged the residents for making Mission Fateh of Punjab government successful.
While speaking on the occasion, Khanna MLA Mr Gurkirat Singh Kotli raised some problems of the area. He said that as Khanna falls on a national highway, there should be no shortage of health services here. He also thanked the Punjab government as well as Health & Family Welfare Department for opening of Mother Child Hospital.
Fatehgarh Sahib MP Dr Amar Singh said that the Mother Child Hospital would prove very beneficial for the area residents. He appreciated the efforts of health department in fighting COVID 19 pandemic. He also raised the issue of opening a medical college at Khanna.
Prominent among those present on the occasion included MLAs Mr Lakhbir Singh Lakha, Mr Gurpreet Singh GP, Zila Parishad Ludhiana Chairman Mr Yadwinder Singh Jandiali, ADC Khanna Mr Jaspal Singh Gill, SDM Mr Sandeep Singh, Political Secretary to the minister Mr Harkesh Chand Sharma besides several others.
4000 vacancies of doctors & other staff to be filled by September 2020 to accomplish Mission Fateh: Balbir Singh Sidhu
Chandigarh: Around 4000 posts of para medical staff including doctors would soon be filled by September, 2020 to accomplish 'Mission Fateh' war waged by the Chief Minister Capt. Amarinder Singh against COVID-19 in Punjab. It was disclosed by Health & Family Welfare and Labour Minister Mr. Balbir Singh Sidhu in press release.
Mr. Sidhu said that an agenda of 4000 posts would be tabled in the cabinet to fill the gap of shortage of skilled man power. He said that to ensure quality healthcare services to the people under Mission Fateh, two newly constructed 30 beded Mother and child care hospitals today dedicated to the people at Rajpura and Khanna. Equipped with the all modern facilities, these hospitals have been constructed at a cost of Rs. 6 crore and Rs. 9 crore respectively.
Mr. Sidhu said that Punjab Government under the leadership of Chief Minister Capt. Amarinder Singh had taken the first concrete step of lockdown/Curfew in country to save the people of Punjab from the deadly epidemic COVID-19 which had replicated by Union Government. Now under Mission Fateh to defeat Corona virus, the war is being fought on a large scale. He appealed to the people to take precautionary measures for the success of Mission Fateh and also educating others about wearing masks, washing hands, downloading COVA app and maintaining social distance.
Cabinet Minister further said that health services in Punjab would be modernized and computerized soon on the lines of banking system, besides 9 Trauma Centers were being setting up in Punjab. He said that in all the Govt. Hospitals, services of CT scan and ultra sound would also be commenced on the AIIMS and PGIMER rates in synergy with private players, which would further improve and strengthen the health services.
Mr. Sidhu said that our doctors have provided excellent services in fight against Corona virus and other diseases as Corona Warriors and now to overcome the shortage of doctors in government hospitals, recruitment process would be completed through Baba Farid Medical University by September 30, 2020.