109 budding players honoured in 3rd Mayank Sharma Memorial Sports Excellence Awards
Excellence Awards are organized in association with DCM Group of Schools every year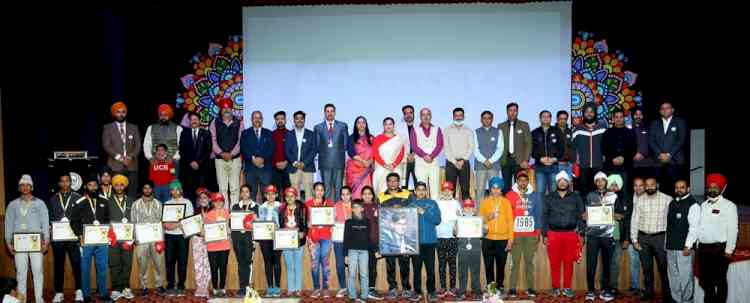 Ferozepur: As many as 109 budding players from the town were honoured in the 3rd Mayank Sharma Excellence Award organised by Ferozepur- based NGO Mayank Foundation in an award- giving ceremony held at Das and Brown Word School. The players selected to be honoured are the ones who have played upto zone, district, state and national levels.
The function was presided over by DCM Group of School CEO Anirudh Gupta, while SDM Amit Gupta was the chief guest during the occasion.
Dr Naresh Khanna, Dr Sheel Sethi, Dr Saurabh Baagi, Naib Tehsildar Vijay Behl, Dr Ashwani Kalia, Secretary Red Cross Ashok Behl, Rishi Sharma, social worker Shamindar Singh Bedi, Deputy Education Officer Komal Arora met the players and encouraged them to work hard in their respective sports and play up to the national and international level.
Mayank Foundation Secretary Rakesh Kumar said that the Excellence Awards are organized by them in association with DCM Group of Schools every year to honor the players.  Deepak Sharma said that his son Mayank, who was the victim of a road accident, had a dream to make the name of the district famous in sports.  The event was organized to encourage the players to fulfil their dream on Mayank Sharma's birthday.
On this occasion the members of the foundation Principal Rajesh Mehta, Principal Sanjeev Tandon, Gajalpreet Singh, Vipul Narang, Dr. Tanjit Bedi, Rajiv Setia, Manoj Gupta, Vinesh Galhotra, Harinder Bhullar, Charanjit Singh, Davinder Nath, Vikas Gumbar, Vikas Gupta, Mitul Bhandari, Dinesh Gupta, Arun Kumar, Awan Bhalla, Gagandeep Singh were also present.