101st Birth anniversary of Founder Chairman Stya Paul
The day was celebrated by Apeejay Education Society at national level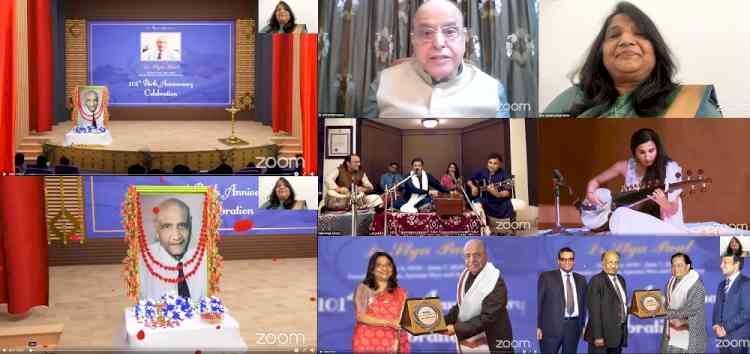 Jalandhar: On the occasion of 101st Birth Anniversary of the Founder Chairman Shri Stya Paul, the day was celebrated by Apeejay Education Society at National level. His daughter and current Chairperson, Apeejay Education Society, Dr. Sushma Paul Berlia expressed her gratitude for celebrating such a man who was not only a philanthropist and educationist but a live personification of determination with an undying spirit who had the power to face any herculean task. He was a man of moral with the spirit to promote quality education in order to strengthen the nation building. She added that his father was his first Guru and it was his guidance and ethics under which she has achieved everything in her life.

On this occasion, Dr. Krishna Swami Kasturi Rangan, Former Chairman ISRO and Head Drafting Committee, NEP 2020 was the chief guest of the day who expressed his gratitude to be the part of celebrations of such a great personality. He also shared with the audience about the new Education Policy. The famous Bhajan King- Mr. Anup Jalota, on this occasion, sung various bhajans in the memory of Shri Stya Paul. Mr. Aditya Berlia, Mr. Nishant Berlia and Dr. Neha Berlia, the grand kids of Seth Ji were also present on the occasion.

Dr. Sucharita Sharma, Director, Apeejay Education Society and Dr. Sunit Kaur, Officiating Principal , Apeejay College of Fine Arts gave away the Shri Stya Paul Award to Ushik Chopra  of B. Com Semester 5th & Priyanshu Chanana of BCA Semester 5th  for their best contributions in the society along with the cash prize of Rs. 5000. They congratulated the students and asked them to keep the spirit of helping others in them throughout the life and live up to the moral and ethics which Shri Stya Paul had always advocated.