100th train carrying migrants leaves from Punjab today
Till date, more than 1.35 lakh migrants have been sent to their home states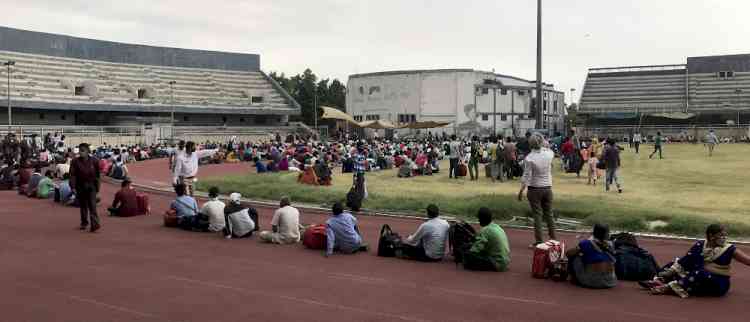 Ludhiana:    The 100th train carrying migrants to other states from Punjab departed from Railway Station, Ludhiana, today. Till date, more than 1.35 lakh migrants, including around 1.20 lakh adults and 15,000 children have left for their home states from different cities of Punjab.
    The first train carrying migrants had departed from Jalandhar on May 5, 2020, and till date, 100 trains departed till today afternoon, while several others would depart in the coming days as well. The Mau (Uttar Pradesh) bound train that departed from Railway Station Ludhiana today was the 100th train from Punjab and 39th from Ludhiana.
    In a press statement issued here today, Mr Vikas Pratap, IAS, Principal Secretary, Public Works Department, (Building & Roads), who is also state nodal officer for coordination with the Indian Railways, informed that the trains are departing from Ludhiana, Jalandhar, Patiala, Ajitgarh (Mohali), Amritsar, Ferozepur, Sirhand and Bathinda on daily basis and each train carries around 1200 migrants.
    Till date, the Punjab government has sent trains to states such as Uttar Pradesh, Bihar, Madhya Pradesh, Manipur, Andhra Pradesh, Jharkhand and Chhattisgarh.
    He further informed that the Punjab government is paying for travel, food, water and pickup service from designated points. He informed that the medical screening of all passengers is being done after which, they are issued medical certificates by the District Administration. He further said that the Punjab government is in constant touch with the other states and more trains would be started in coming days so that maximum number of people can be sent to their home states.
    Deputy Commissioner Mr Pradeep Kumar Agrawal stated that a total of seven trains would depart today and eight tomorrow. He said that as more than 7 lakh people from other states have applied to go to their home states from Ludhiana, the District Administration would be increasing the frequency of trains in coming days. He said that the Punjab government is also in touch with other states to allow travel by road.
    He informed that to bring in transparency and increase efficiency, the District Administration Ludhiana has a barcode on the medical slip, which is being issued to the passengers. He informed that the barcode is scanned when the passenger reaches Guru Nanak Stadium for screening and getting tickets.