10 lakh washable masks to be distributed free amongst needy persons in state: Bharat Bhushan Ashu
Says 80,000 masks to be distributed in District Ludhiana alone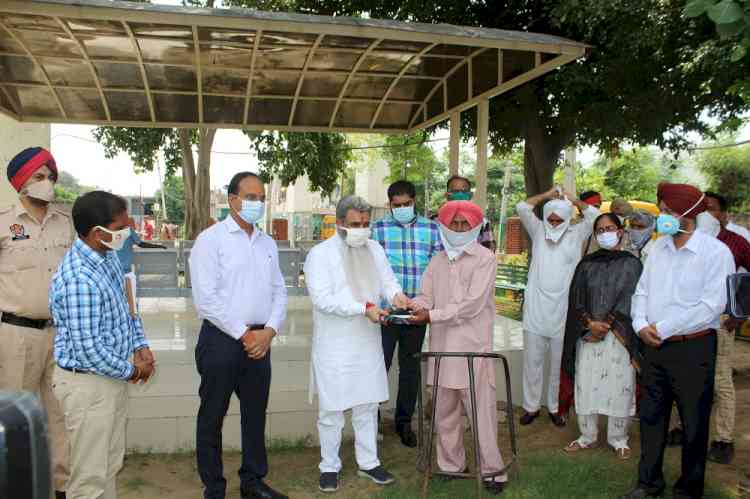 Ludhiana: Punjab Food, Civil Supplies & Consumer Affairs Minister Mr Bharat Bhushan Ashu today informed that to make Mission Fateh of the Punjab government successful, 10 lakh washable masks would be distributed amongst the needy persons in the state. He said that 80,000 such masks bearing Mission Fateh logo would be distributed in district Ludhiana alone.

    Accompanied by Deputy Commissioner Mr Varinder Kumar Sharma, ADC (Development) Mr Sandeep Kumar, Councillors Mrs Mamta Ashu and Mr Dilraj Singh, besides others, Mr Bharat Bhushan Ashu today inaugurated the distribution of these masks amongst the needy by visiting a park in Jawaddi area of Ludhiana city.

    While speaking on the occasion, Mr Ashu informed that to check the spread of Covid pandemic, Chief Minister Capt Amarinder Singh had announced that 10 lakh washable masks would be distributed free amongst the needy persons who cannot afford a mask. He said that as per a latest study, wearing of a mask is foremost important and if every person starts wearing a mask, we can easily break the chain and score victory over Covid 19. 

    He informed that the Punjab government is committed to provide these masks to every needy person not only in district Ludhiana, but in other districts of the state as well. Mr Ashu urged the residents that they should not panic if they are tested positive as all the government as well as private hospitals are fully equipped to handle the patients. He also urged the residents to immediately visit their nearest testing centre in case they have any Covid like symptoms and do not delay the testing at any cost. He said that Covid testing is being done totally free of cost in all government testing centres across the state.

    Deputy Commissioner Mr Varinder Kumar Sharma said that the District Administration has developed a mobile app on which one can check the status of vacant beds in private hospitals of district Ludhiana. He said that the app is in its testing stage and would be formally launched for residents within this week.

    He further informed that to start with, these 80,000 washable masks would be distributed in slums, vehras etc first, followed by distribution in other parts of the district where people cannot afford masks. He said that these masks can be used repeatedly after thoroughly washing them daily with hot water.