10-Days Punjabi 'Lok Naach' camp starts 
The event begins in the open air theatre of Lyallpur Khalsa College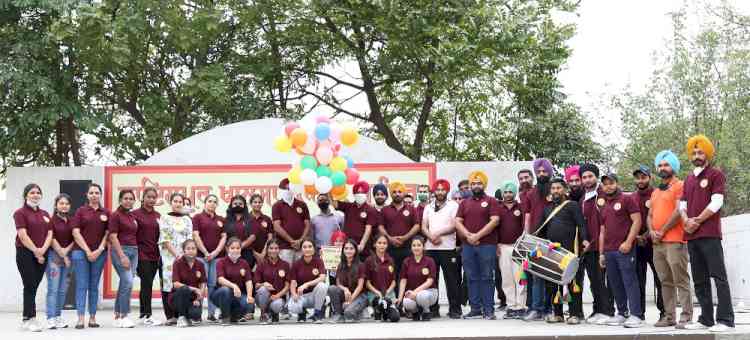 Jalandhar: In order to preserve the legacy of Punjabi culture, a ten days Punjabi 'Lok Naach' camp was started in the open air theatre of Lyallpur Khalsa College, Jalandhar on April 16. 
In the inauguration ceremony of the camp, Principal of the college Dr. Gurpinder Singh Samra mentioned the prime motive of the camp and said that such cultural activities save us from drug addiction and tie us with our roots, which further brings a positive change in our society. Further, Dr. Samra said necessary precautions and guidelines by the govt. pertaining to Covid-19 are being considered in this camp. On this Occasion, Incharge of Bhangra and deputy dean cultural affairs, Dr. Palwinder Singh Bolina welcomed all and told that registration for this Bhangra camp was done through online and offline mode. Moreover, no fee was charged from 350 participants attending this camp and students were divided into different zones by considering the Covid-19 pandemic. 
On this occasion, Dr. Harjinder Singh Sekhon and Prof. Satpal Singh managed the stage . College's alumni Gurpreet Bajwa taught the rules and steps of 'Lok Naach' to the participants and Nirmal Kumar showed his prowess by playing 'Dhol'. Further, On this occasion, Dr. Balwinder Singh Chahal, Prof. Sanjeev Anand, Prof. Gagandeep Singh, Dr. Amritpal Singh, Dr. Ajitpal Singh, Prof. Himanshu, Prof. Supreet Kaur, Prof. Harbinder Kaur, Prof. Sonu Gupta, Prof. Pooja Sonik, Prof. Jaspreet Khera, Prof. Jaspreet Saini, Prof. Shilpi, Mr. Surinder Kumar Chalotra, Ms. Tavneet Kaur, Ms. Gurpreet Kaur, Ms. Abha, Smt. Sukhpreet kaur and students of Bhangra, Giddha and Luddi were also present.