Ludhiana Management Association organises its 38th Annual Day Function
Author(s): City Air Newsphoto: city air news Ludhiana, December 1, 2016: Ludhiana Management Association organised its 38th Annual Day Function on 1st December, 2016, at Hotel Park Plaza (Darbar Hall), Ludhiana. Dr S.S.Johal, Chancellor,...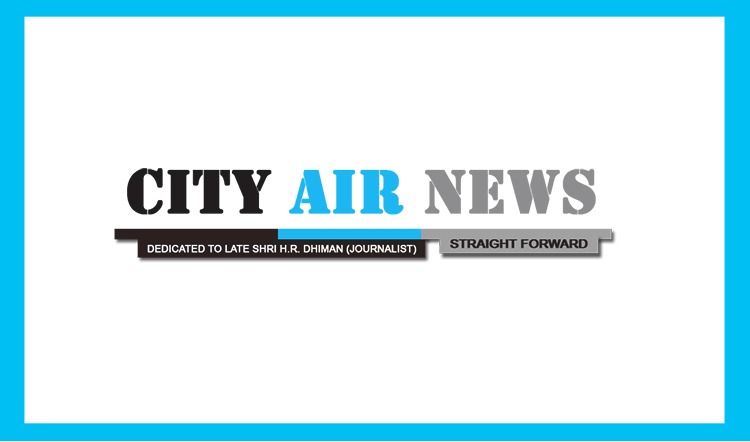 Ludhiana, December 1, 2016: Ludhiana Management Association organised its 38th Annual Day Function on 1st December, 2016, at Hotel Park Plaza (Darbar Hall), Ludhiana. Dr S.S.Johal, Chancellor, Central University Bathinda was the Chief Guest at the Function. , Dr.K.N.S.Kang, President, LMA, Ms Paramjit Kaur,eneral Secretary LMA, Past Presidents, dignitaries from business, academicians and members of Ludhiana Management Association were also present on the occasion.
On the occasion, Dr S.S.Johal gave away LMA – Vardhman Award for Entrepreneur of the year 2015 - Sponsored by Vardhman Textiles Limited, Ludhiana to Mr Rana Kapoor, Founder, MD & CEO, YES Bank Limited, Mumbai. LMA – Dayanand Munjal Award for Manager of the Year 2015 - Sponsored by HeroCycles,Limited,Ludhiana to Mr V K Goyal, Executive Director & CEO, SEL Manufacturing Company Limited, Ludhiana. LMA – Trident Award for young innovative Entrepreneur or Manager of the Year 2015 - Sponsored by Trident Limited, Ludhiana to Mr Chhotu Sharma, Founder & CEO, CS Group, Chandigarh. LMA - Hari Chand Award for Corporate Citizen of the year 2015 - sponsored by Nikhil Singal Noble Trust of Eastman Group, Ludhiana to Mrs Mohini Daljeet Singh, Chief Executive, MAX India Foundation. LMA - Sohan Lal Pahwa Award for Emerging SME of the year 2015 - sponsored by Avon Cycles Limited, Ludhiana to Mr Ramesh Kumar Jagota, Chairman & MD, Youngman Woollen Mills Limited, Ludhiana. LMA - Sat Paul Mittal Life Time Achievement Award of the Year 2015 - Sponsored by Bharti Enterprises Limited, Gurgaon to Dr Naresh Trehan, Chairman, Medanta - The Medicity, Gurgaon.
Dr. Naresh Trehan as key note speaker said that he appreciates the entrepreneurial spirit of Ludhiana and its people. He further said that people in today's environment are being affected a lot by stress and tension and these factors have huge impact on the physical health of the people and reduces life span of citizens. He advocated strongly implementing healthy routine in normal life backed by physical exercise and balanced diet. Dr. Trehen also said that he is planning to set up Medanta medical hospital in Ludhiana.
Dr SS Johal appreciated the efforts put in my LMA to recognize young and budding business professional in business and said that such efforts motivate and encourage entrepreneurs to do better. He further added that primary sector people i.e. people from agriculture should also be recognized and awarded to encourage them to do better.
Dr. K.N.S.kang, President, Ludhiana Management Association while delivering his presidential remarks said that today business world is facing transformational change influenced by technological developments. He further said that organizations who adapt to changing environmental situations fast will succeed and sustain for long run. He also congratulated the winners and said that these awards are true recognition of the young and budding entrepreneurs of the country who will make their presence felt at national and international level.
LMA – Dayanand Munjal Award for Manager of the Year 2015
How often do you meet people, who receive education from rural government schools and colleges and become one of the most effective CEOs of the region? That is exactly what Mr. V. K. Goyal happens to be. He completed his MBA from Punjabi university, Patiala with a Gold Medal. After enduring tough early years, he started his career with Vardhman Group in 1980 as a Management Trainee.
In less than a decade he became the youngest General Manager of a large yarn spinning unit of the this multi-million dollar company at mere 31 years of age. He is now the Executive Director & CEO of Ludhiana based SEL Group. SEL is an integrated Textile player with verticals in Yarn, Fabrics, Garments and Terry Towels. The Group has an annual turnover of over Rs 3000 crores and manpower strength of about 14,000 people. Mr. Goyal has steered various ambitious and challenging projects for the Group. He looks after the entire gamut of management functions including Marketing, Planning, Production, Human Resource, Projects and Strategic Management, to name a few.
Mr Goyal has been instrumental in aggressively promoting exports of yarn and towels of the company, as a result of which Textile Export Promotion Council of India awarded bronze medals for third highest export of cotton yarn during 2014-15 and 2015-16; and Gold Medals during 2014-15 and 2015-16 for highest export of Terry Towels in its category. His organization is only 10 years old and has achieved this performance against formidable and established players in the industry despite many internal and external challenges.
Mr. Goyal has played lead role in the professionalization of management and adoption of systems approach in the organization. SEL which was primarily a family run organization till 2010 has been transformed into one of the most professionally managed organizations in the region.
Mr. Goyal is a widely-traveled person and has visited over forty countries during the last thirty-five years.
Mr. Goyal has made outstanding contribution to Ludhiana Management Association (LMA) in various capacities from General Secretary, to the President. It was during his tenure as President of Ludhiana Management Association, that LMA for the first time ever was adjudged best LMA in its category by All India Management Association for the year 2010. He is also the General Secretary of the Federation of Dyeing Factories Associations, Ludhiana. He has successfully contested various important issues of these 280 textiles units with the government.
Mr. Goyal is a member of a number of state and national level committees constituted by the state and central government. He is also on the Board of Governors of Nine Educational Institutions. He is Chairman, Managing Committee of Kundan Vidya Mandir Senior Secondary School, Ludhiana, the first CBSE affiliated school in Punjab and one of the top schools of the state, with a student strength of about 5000. He is also the treasurer of Shri Kundan Lal Trust which runs three of the top schools of the region in Ludhiana and Chandigarh.
In view of his distinguished contribution & achievements, LMA presents the LMA - Dayanand Munjal Award for Manager of the Year 2015 to Mr V K Goyal.
LMA - Vardhman Award for Entrepreneur of the year 2015
As a professional entrepreneur, since 2003, Mr. Rana Kapoor, Founder MD and CEO of YES Bank Limited, has progressively established a high quality, state-of-the-art private Indian Bank with a vision "To be the Finest Quality Bank in India by 2020". Under his leadership, YES Bank, India's fifth largest private Indian bank, has steadily evolved as the "Professionals' Bank of India", globally acclaimed & recognized in the Financial Times Banker Top 1000 List as well as one of the youngest Banks in the World to be part of the prestigious Forbes 2000 World's Top Companies list.
Besides being a visionary business leader, Rana Kapoor has been a Change Agent, ushering positive change and development across community, society and at National level. A staunch believer of Change begins with me. We need to change the way of approaching things Mr. Kapoor has received numerous awards and accolades for his exemplary contributions towards fostering Design, Innovation and Entrepreneurship-led Innovation (D.I.C.E), Strengthening key growth sectors including MSME, Manufacturing and Financial Services, amongst others, as well as promoting bilateral relations with strategic partner countries to actualize the 'Make in India' strategic initiative.
He has recently been felicitated as 'The Leading Banker of the Decade' by The Indian Chamber of Commerce (ICC) and also recognized by the London Business School India Business Forum for his exemplary Contribution to Innovation and Entrepreneurship. He was also adjudged the CEO of the year at the Legal Era Awards and Best CSR Leadership Award (Gold) at the 8th Annual Global CSR Summit and Awards in Bali.
Mr. Rana Kapoor has translated his dream into an amazing success story worthy of emulation. No matter how big a crowd may be, a person like him always stands out!. His dedication, enthusiasm and insight are really inspiring.
The LMA proudly bestows Mr Rana Kappor with LMA-Vardhman Award for Entrepreneur of the year 2015.
LMA- Hari Chand Award for Corporate Citizens of the year 2015
Max India Foundation is the CSR arm of the Max Group and has been working dynamically to bring good health and health awareness to the needy, well before the mandated CSR Rules were enforced; healthcare being an urgent requirement for the undeserved.
Mohini Daljeet Singh joined the Max Group in 2007 to start the Max India Foundation in accordance to the Chairman, Mr Analjit Singh's vision of caring for life with "Seva Bhav". Max India Foundation was formally launched on 15 January 2008 with the mission of providing quality healthcare to the underprivileged.
Creating a benchmark for healthcare on the CSR platform, Max India Foundation has carved a niche in the CSR space with 26 Lakh beneficiaries to date, at 706 locations, partnering with 412 NGOs. This is done through holding pan India immunization camps, health and cancer screening camps, health centres and artificial limbs & polio calipers camps along with facilitating high end surgeries and treatment. Cancer has been a focus area due to the alarming increase in incidence and inability of the undeserved to afford the treatment and challenges.
With her commitment, passion for her work and a drive to make a difference, Mrs Mohini feels that communication is the key to successful impact. With that competence, she has been able to effectively connect with all levels of the society from slum dwellers to villagers, Gram Sabhas, MLAs and leaders. Preventive healthcare, spreading health and environment awareness and treatment support for the underprivileged are key areas of the Foundation's work. Max India Foundation has been awarded for its work by several organizations, motivating the team to do more. Awards include the prestigious Golden Peacock Award for CSR four times.
Mrs Mohini has represented MIF as a panelist and anchor at various platforms including that of CII, ASSOCHAM, PHD Chamber of Commerce, CSR Live week, BRICS CCI centre for CSR, Institute of Directors and IICA in India and abroad.
LMA recognizes the value of every drop of her efforts towards social good and feels privileged to felicitate Mrs. Mohini Daljeet Singh with the LMA- Hari Chand Award for Corporate Citizen of the year 2015.
LMA-Sat Paul Mittal Award for Life Time Achievement for the year 2015
A trusted, patient focused and experienced locum doctor with a long history of serving patients by successfully diagnosing, treating illnesses and diseases, Dr. Naresh Trehan, an Indian national, is a renowned Cardiovascular and Cardiothoracic surgeon, a graduate from King George Medical College and subsequently trained and practiced at New York University Medical Center Manhattan USA, where he obtained a Diploma from the American Board of Surgery and the American Board of Cardiothoracic Surgery.
Success to him has been like a ladder towards his destiny. He says that his accomplishments have got more to do with his determination than destiny. Dr Naresh Trehan is the Chairman & Managing Director, Medanta- TheMediCity, a 1500 bedded multi super speciality institute, which offers cutting edge technology and state of art treatment facilities at an affordable cost. The Institute is governed under the guiding principles of providing medical services to patients with care, compassion and commitment.
Dr. Naresh Trehan founded the Escorts Heart Institute and Research Centre where he was the Executive Director. Escorts was conceptualised, created and managed by Dr. Trehan from November 1987 to May 2007.Dr. Naresh Trehan has received many prestigious awards, including Padma Shree and Padma Bhushan Awards, presented by the Government of India.
Ranked among the top-notch cardiologists in India Dr Naresh Trehan was the President of the International Society for Minimally Invasive Cardiac Surgery (ISMICS), Minneapolis, USA 2004-05 and has also received Honorary Doctorate Degrees from three prestigious universities.
This award stands alone proudly witnessing his hard work and dedication and makes him shining in midst of names and fame. This achievement is just one amongst his flights of success, he has a long way to go.
LMA acknowledges his sterling contribution to the society and is pleased to felicitate Dr Naresh Trehan with the LMA-Sat Paul Mittal Lifetime Achievement Award of the Year 2015.
LMA-Sohan Lal Pahwa Award for Emerging SME of the year 2015
With his resilience, hard work and persistence, Mr Ramesh Kumar Jagota, Chairman of Youngman Woollen Mills Pvt Limited has overcome every challenge that came his way.
Youngman Woollen Mills Ltd, established in 1981, now an ISO Company, is one of the largest manufacturers of mink blankets. It symbolizes creativity, quality and variety, blended with originality. Today it is widely known for manufacturing not only high quality blankets but also home furnishings and fabrics with sparking, modern, and stylish designs along with the assurance of warmth.
Mr. Jagota's integrated manufacturing unit with latest knitting, dyeing, cutting and processing facilities ensures the requirements of its clients. His untiring efforts have made the company a major textile hub in North India.
In his quest for growth, Mr Jagota has never ignored his commitment and responsibilities towards stakeholders, environment and society at large. Under his leadership, for the past 20 years the company has been consistently growing at the rate of 20 %. Its revenues now touch Rs. 350 crore and it is has a prominent name in India and abroad. Recently Youngman was awarded the Best Export Performance Award by The Synthetics & Rayon Textiles Export Promotion Council, Mumbai.
Mr. Jagota's youngman has really lived up to its name- i.e. a company driven by young entrepreneurs opening new vistas of success for the youth.
The LMA proudly bestows upon Mr Ramesh Kumar Jagota the LMA-Sohan Lal Pahwa Award for the Emerging SME of the year -2015.
LMA-Trident Award for Young Innovative Entrepreneur of the year 2015
Today we listen to an inspirational story of a Chandigarh-based entrepreneur who has risen from rags to riches in a quick span of 17 years. Mr Chhotu Sharma Founder, CEO of CS Group, Chandigarh was born on September 30, 1975, in a small village in Himachal Pradesh. Knowing his family's conditions well, he left his village empty handed at a very young age in pursuit of a job in the city. He got a job as a 'peon' at the local Computer Education Centre at Chandigarh and managed to fund his one-year computer course as well. Those were the days of struggle when he used to skip his meals to save money, work overtime to ensure he learns computer course at the centre. Months passed by as he never saw the sun, as he used to go before the sun rises and come back after the sun sets. The hard work and sincerity paid off as he started guiding other students with their programming lessons—and discovering his skills as a teacher. He bicycled for hundred of kilometres on a daily basis to give home tuitions in Chandigarh Tricity region.
Today, he teaches advanced software development languages to more than 1000 students in his own Chandigarh-based CS Infotech. He is also the founder and CEO of a software development company 'CS Soft Solutions'. Having started the operations with just two people back in 2009, the company has witnessed tremendous growth in the span of over six years as it gives employment to over 175 people now. He has been instrumental in shaping the goals and evolving the values of both the companies.
For his excellent work in the field of education, he has been conferred with the title of "Himachal Gaurav" by Sh. Prem Kumar Dhumal, Former Chief Minister of Himachal Pradesh in the year 2007. He has also been recognised in a survey conducted by a popular national-level magazine 'Reader's Digest' in March 2013 edition as a 'Self-made Millionaires' he is amongst the three people selected in entire India. In the year 2015, The Hon'ble Union Minister of Health and Family Welfare, Sh. J.P. Nadda awarded him for excellence in the field of Education and Information Technology. Recently, he was also conferred "Guest of Honor" by Shri G.S. Bali -Cabinet Minister, Himachal Pradesh, on the occasion of Annual Cultural Ceremony of Himachal Students Union (Himachal Ek Jhalak) Function held on 1st May 2016, at Chandigarh, for his excellence in the field of IT, Education, Employment and his overall contribution to society at large.
LMA acknowledges contribution of Mr Chhotu Sharma & presents him with LMA-Trident Award for Young Innovative Entrepreneur of the year 2015.
Date:
Thursday, December 1, 2016